World's Best Father Award Certificate
The given best father award certificate template is for all those children who want to wish and award their father with 'Best Father Certificate'. For anyone father is a great person in his/her life. No one can deny father's struggle, efforts and all hard work that he does for his children. It is good way to wish fathers not only on a particular day but anytime throughout the year.
We have design a very colorful and special certificate for all those who are intended to wish their father as a best father. The template can be edited to award fathers particularly on Father's Day. The same template can be used for all those who unfortunately have lost father but have some father-figure person in their lives. They can even use this template to wish them.
The sample template has been designed using MS word. So it is very easy to edit or customize it. Anyone with a little knowledge of using MS word can customize this template in his/her own way. Font size, style and color scheme can all be changed. The template is best design to use in its original format. However, it can easily be edited as per users' requirement. On the other side for all users it is completely free to download. A preview of it is also given to have an idea about its look.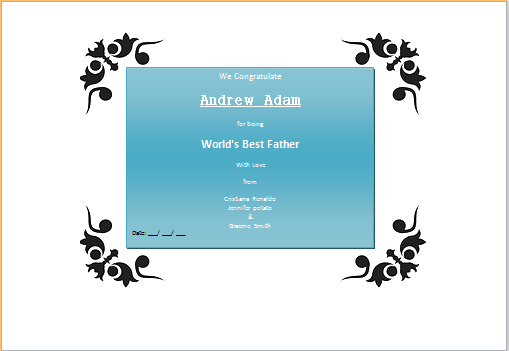 Best Father Certificate
Provided by: ENERGY corp.
Best father award certificate is a ready made and time saving tool. Get the job done in no time
Download size: 54 Kb
World's Best Mother Award Certificate
Best mother certificate template has been prepared for those mothers who perform excellent in different fields of life. This certificate template can be presented to mothers who put their best efforts in grown up of their kids. The mothers who work well with their kids in doing their school matters in excellent way must be appreciated and awarded. This can also be presented to those working ladies who work in spite of all other household responsibilities and perform better than other. The kids can use this certificate to wish their mothers on Mother's Day. Apart from giving cards, flowers and other expensive things the certificate is another way of accepting a mother's efforts and love.
The best mother certificate template is designed for all those who want mothers to appreciate and encourage for the work they have been doing. It is simply design to present all mothers to acknowledge their efforts. The given certificate can be best use for this purpose. The certificate is prepared in MS word format that allows its user to make changes in it easily. Although the certificate is fully equipped to use in its original format but it can be customized as per requirement. The color scheme, font size and style can be changed in no time. The preview is given to have an idea about its appearance. One can download this certificate by clicking "Click here to download" at the bottom of this page.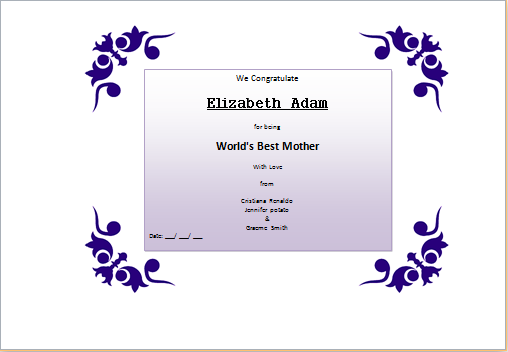 Best Mother Certificate
Provided by: ENERGY corp.
Best mother award certificate is a ready made and time saving tool. Get the job done in no time
Download size: 191 Kb