Depreciation Value Calculators:
Depreciation is a method to allocate the total cost of full asset to its whole useful life. Business organizations depreciate the long-term assets for accounting and tax purposes. Different unfavorable market conditions can be the reason for the reduction in the asset value. The bulk purchase depreciation is calculated for the accounting purpose to calculate the remaining value of assets. It is important for the business to calculate the value of assets to know how long the asset will last. The depreciation has great importance in the accounting cycle, because the values of the assets should be calculated to prepare financial statements. The bulk purchase depreciation value is important to calculate, because the value has its own role in the financial statements.
Template
The bulk purchase depreciation is an important calculation that helps in the preparation of financial statements. The template is specifically designed to assist you, therefore it is free and easy to use. The accountants and other financial professionals can use this template to calculate the book value and the projected depreciation of the assets purchased in a group by paying a lump-sum amount. Individually calculate the depreciation value of the assets to check their actual and remaining life. The template is design for your assistance, and it is simple to use because of its user friendly design. The experts have designed it after considering all important needs. It proves a perfect tools for all accountants and financial professionals.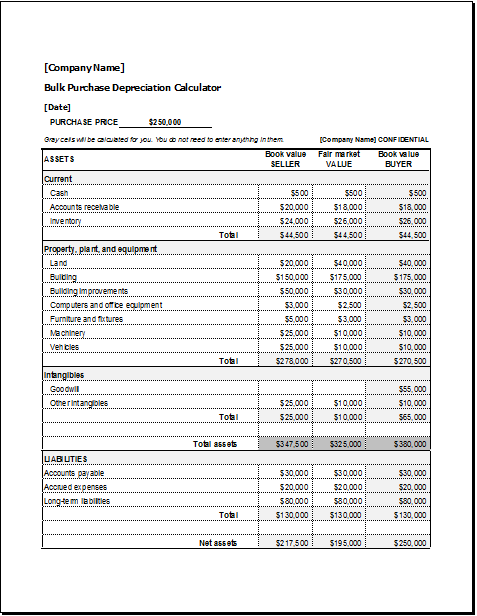 Bulk Purchase Depreciation Calculator Template
Download your file below
File Size: 60 KB
Download