Service Invoices
The simple business invoice template for Microsoft Excel is probably everyone's current first choice when it comes to invoicing solutions for businesses. The business invoice is not only quite easy to customize but also fairly simple to use. The internet offers a diverse range of such business invoice templates that can be downloaded onto your computers without any cost.
This simple business invoice template is perfect for all types of businesses but particularly those that are in the start-up phase. It allows smooth performance of simple invoicing tasks on an individual basis.
All the basics of your finances are handled by the business invoice template as it calculates the unit price for you. Based on the information you feed into the template; it will calculate the line totals from the quantity and unit price. The template has the ability to calculate your grand total as well; making your work tasks less strenuous.
The business invoice is available in formats of landscape and portrait to cater to different requirements. The settings are handled on the tab provided and the changes made are reflected prominently on all the invoice tabs. The colors can be chosen from the pre-set option available in the settings tab or you can opt for the ink friendly formats as well depending upon your needs. The currency symbols can be changed through the selection from a drop down list available. The printing and sending of these business invoices are fairly easy as well through the usage of PDF printers.
---
Preview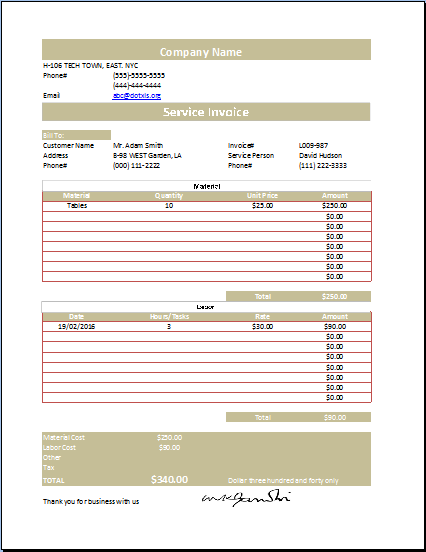 Service Invoice with Unit Price
Provided by: ENERGY corp.
Microsoft Excel Format Template | Editable & Printable
Download size: 47 Kb