Classy Night Club Flyers
Flyers are one of the easiest and most convenient methods of promotion. You can be targeting to promote anything from an event to a product to a place. Everything can be advertised using a flyer.
Flyers are a small piece of papers or a single paper that has information about a specific cause, occasion or product, and services. It can be used to serve a number of purposes. Flyers are mostly distributed to the target market selected by the marketers for the specific thing or subject element.
The online website and the internet have made it every easy for companies and individuals to develop their own special flyers and brochures very easily. There are unlimited designs and sources available that can be searched and used for final selection or even inspiration of the design. For example, you can look for the Classy Night Club Flyer and get hundreds of different templates and ideas to choose from.
Sometimes these templates are a free while for more professional ones the websites may ask for a specific price. In either case, it is much more convenient to create a classy night club event flyer today than it was a few years ago. You can add relevant information about your nightclub on the flyer and make it convey the right information to the targeted audience. It is an easy and convenient way of promotion and dissemination of information about the night club in particular. You can also add about various events and promotional packages.
---
Preview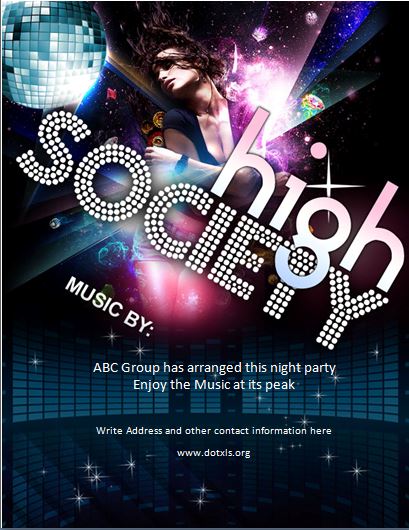 Classy Night Club Flyer
Provided by: ENERGY corp.
Classy night club flyer is an out of the box invitation poster for the party lovers. Invite as many people as you want and spread the message using given flyer. It is completely editable with all information you want to share.
Download size: 354 Kb