You may not always be in a condition to take care of your pet. Sometimes it's that you do love pets but are not good at keeping your pets according to their needs. You may be going on a vacation and your pet is alone at home or your pet might be in need of an expert care. In all such situations, pet care service providers are your solution. In these times of extra busy life when people lack time for their own selves giving quality time to pets has become very difficult. Pets are your family. They have needs that need to be fulfilled. Their likes and dislikes are to be catered in time. To give your pet the best, you may think of taking help from a pet care service provider.
When you contact a pet care service provider, you're asked to fill in a worksheet that contains yours and your pet's information. Most of the times the pet caretaker visits the pet at home, at other times, the pet might be sent to the place of pet caretaker. In both cases, the worksheet needs to be filled so that the caretaker may take the best care of your pet as every pet has idiocentric needs.
The client profile worksheet for pet keeping requires the following information;
Details of the pet
Details of the owner including residence details
Special needs of the pet and its habits
Codes to enter the house in case of owner's absence
Veterinarian details etc.
The worksheet below would help you understand how a client profile worksheet for pet keeping looks like.
Preview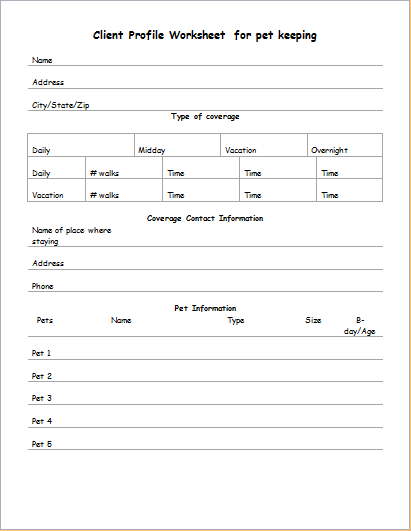 File Size: 64
Download Word (.doc)