4th of July Bash Flyer
One of the most powerful marketing tools, event flyers are used to spread awareness about a certain event which will take place. Marketing plays a very big role in keeping you in business.
In today's day and age with the enthusiasm of digital and social media, where everything is done in a different way, event flyers are a more traditional way of advertising. Handing out flyers ensures that the information one intended to get to a certain amount of people actually got to them.
4th of July party flyer informs people about the party at a certain club including 4th of July event activities. It invites people into a mesmerizing world of dancing, laughter, fun, music and drinking along with the excitement that comes with parties at clubs. 4th of July bash flyer informs people about the time and days the bash party will take place along with its event schedule.
The flyer furthermore informs about the different activities which will take place during the event. It also lists when and where you can purchase the tickets. Usually, the flyer will also list a couple of phone numbers. It is a very colorful, bright and inviting flyer.
Any event flyer is a good way to let others know about your event, it is a fast, easy and inexpensive way to promote the event. Any flyer needs to be attractive, simple to read and understand, and it should stand out from all the other flyers out there and the fourth of July bash flyer manages to do just that.
---
Preview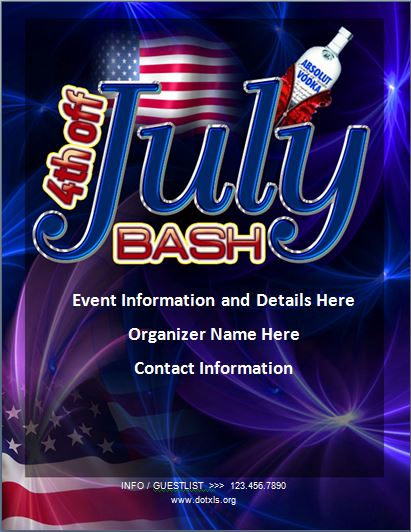 4th of July Bash Flyer
Provided by: ENERGY corp.
Inform people about bash party and complete event schedule of 4th of July party. A complete list of different activities can also be added along with venue and guest list details. A perfect tool to gather everyone for the lovely party you arranged.
Download size: 345 Kb