Service Agreements
The computers are the most important tool in offices and in almost every department. The need for the computer service contract arises when the computer needs repairing. The computer is required to be maintained in order to get rid of the big problems and to utilize the computer efficiently. You can perform the maintenance of the computer by designing the computer service contract in order to keep your date secure while maintenance. The basic purpose of the computer service contract is to ensure that the technician and the owner of the computer both have agreed to the terms of the service, the cost and the timeframe in which the service will be provided and the complete service of the computer will be performed. The owner of the computer depends on this contract in order to communicate, analyze, and manage while paying the bill.
You may need the computer service contract document in the case when you are hiring a contractor who is independent and perform the computer services or if you are being hired an independent contractor to perform the services of the computer.
With the help of this contract, the owner of the computer becomes relax as he knows that someone is regularly taking care of his computer. The computer, after repair, will be able to work more smoothly and efficiently. Those issues of the computer, which the owner is unable to understand, will be identified by the technician and he will fix them. You can add the conditions in the contract which you want to be agreed upon by both you and the technician.
Following is given a short contract template for MS Word consists of one page that can be used as a sample for the purpose.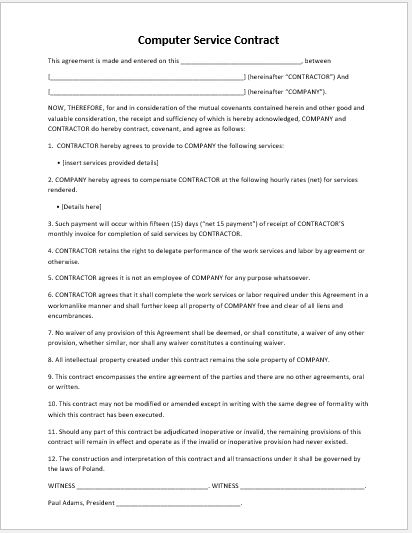 File: MS Word | Size 44 KB | Download