Worksheet Management
For every business time management is very essential. The use of controllable worksheet makes it very easy to calculate the amount of time you make each day. The use of such worksheets helps to manage the time in all regions of work. All business personnel normally use this worksheet to save and manage time. Business personnel feels as time efficient. They can customize the sheet according to their needs that fit them in the best schedule. This worksheet helps you budget your time in a well-managed way. Controllable time worksheet facilitates you to get organize in your daily routine.
The use of this sheet has the biggest benefit that it can exactly monitor how and where your efforts are going while working on the job. You can check on the task which are completed and the ones which are yet to be done. Modification of the contents is also very easy that further helps keep a follow-up. Therefore adoption of the worksheet will fit in your business.
This worksheet can be distributed among employees to let them manage their time. You have a complete control over the sheet as you can add or remove the fields as per your choice. Simply download the template and add in your information. This template will save a great deal of your time. The worksheet allows you to gather all the information and present it in the easy to read way. This is one best way to stay neat and well organized and ensuring that you meet all the deadlines.
---
Preview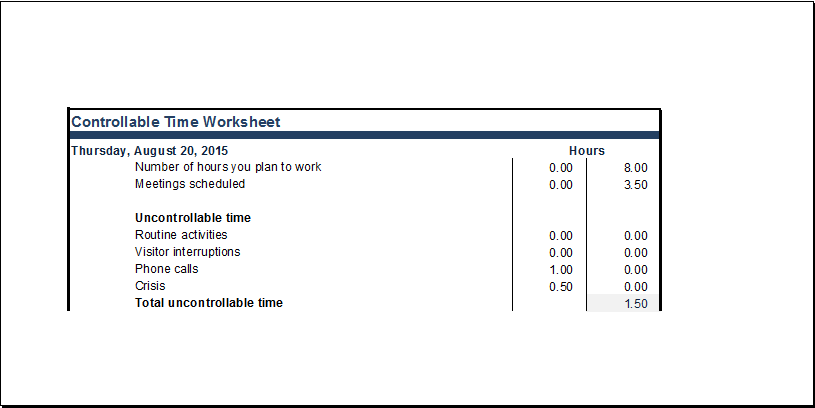 Controllable Time Worksheet
Provided by: ENERGY corp.
File Format: Microsoft Excel | Printable | Editable |
Download size: 31 Kb