Name Cards
The cards carry the information in most decent forms. They are used to provide identity to one person along with facilitating others in different processes. The issuing authorities are used to use the information on a card to know about a person or to get some information.
The cards are used to carry different sorts of information about the card holder. It depends upon the card issuing authority and the card holder that what sort of information they need to notch down for bilateral use. There are therefore different kinds of cards that are used to get several things done in a reasonable manner.
The name card is one of the most commonly used cards. It is used to notch the basic information down on a card for a person or entity. It is used to keep the information up to date for a person or entity. It generally contains information like name, snaps, and address at times. It is used to carry contact information like email and cell numbers of the card holder. The designation is also mentioned in the card and it is also used to make you know about the blood group of an employee as well.
It is one of the most commonly used cards at organizations. The name card template is offered just seeing the value and use of this small yet useful stencil. One can simply use this stencil to get one's card development job done quickly. It can help you create quick cards for your employees.
---
Preview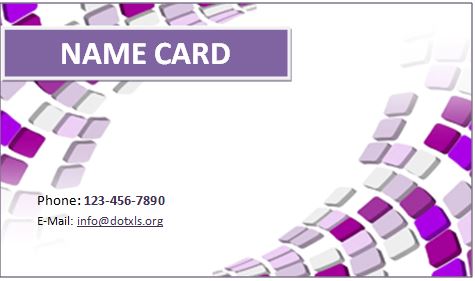 Name Card
Provided by: ENERGY corp.
Name cards are an essential document that one keep with oneself. You may need to come across a situation where you have to represent yourself precisely without a word being uttered. Name card is a silent form of one's introduction. Given name card beautifully designs and it carries name, contact and email information of the carrying person. However, more details can be added along with a picture if you know a little about Microsoft word software. Customize and have fun !!
Download size: 227 Kb