Task Schedules
Make use of technology for your benefit. MS Excel is the great creation of Microsoft. It has number of features that can help you get your schedule made. Make a table, use the graphics or note down like you are putting down the information in your diary. All is possible with the help of daily task schedule template. It is the template that is designed using the MS Excel and will give you ideas how to maintain your schedule while using this wonderful manufacture of Microsoft.
Maintain schedule with the Excel Template:
The best part of the schedule template is that it is simple to use and you will be able to use it in your computers, laptops or tablets. You will be able to get your schedule digitized. The smart phones coming out in market these days also have the word facility so this way you can maintain your entire schedule on the task schedule template and use it on the go. The template is without a doubt the excellent way to save your daily tasks in eh jotted form.
This is the template that will work as a reminder and your life will come in organized form in no time. Just put down all the work that has to be done and voila! You will get to do all your editing in schedule too easily with the help of this template. So why wait anymore when you can have your reminder with you all the time?
---
Preview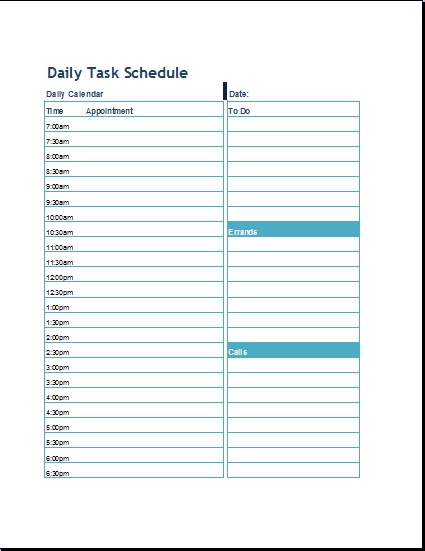 Daily Task Schedule Template
Provided by: ENERGY corp.
Microsoft Excel Format Template | Editable & Printable
Download size: 47 Kb