Dance Club Parties
Anyone who loves to dance to some of the best music beats from the latest charts would love to hang out on a dance your ass off the club. Even if it is a special dance party at the club, a huge crowd is expected to visit it. But how is it possible to gather a huge crowd at a club, without invitations? Even when social media is emerging faster than ever, we cannot rely on it completely; invitations have their own charm and are more appealing than a simple announcement on a social media website! But sending out innumerable, proper invitations can surely cost one a lot of money.
But hey…you might have heard about flyer? Haven't? Then probably, you need to look up for this and sit back and relax once you have sent those out!
A flyer is a single sheet document or paper, which is utilized as a mean of promoting a business, product, company or an event. It is famous as one of the cheapest mode of invitations through which the public is targeted without any specific amount.
A perfect dance your ass off club flyer surely needs to be unique and attractive enough to make the entire club and dance freak, clap their hands with glee. There is a pile of ideas and themes which can be used and one can also create their own styles and share them with the person who is designing the flyer for you. And if you have something new for the visitors, then don't forget to mention that on your flyer!
---
Preview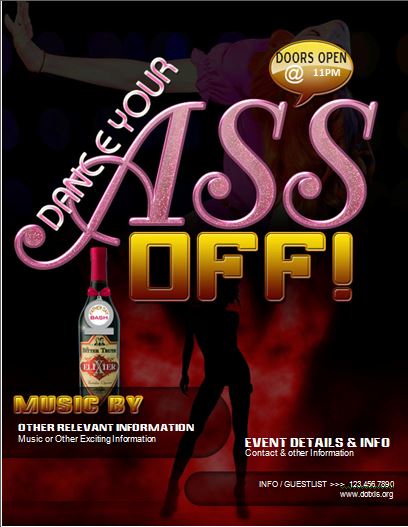 Dance Your Ass off Club Party Flyer
Provided by: ENERGY corp.
Dance is an art. It is a passion for some people. People go dancing parties to relieve stress and to ease their nerves. If you are the one who wants to organize a dance party for your friends and loved ones, you might need to have this flyer. The flyer will help you in spreading the word without being heavy to your pocket. Edit the given flyer to personalize with relevant information and it is all ready to deliver.
Download size: 335 Kb