It is important to maintain your diet as well as exercise for a healthier lifestyle which is indeed challenging but rewarding at the same time due to numerous benefits. With much fashion, professional works and everyday advanced routine demands for physical activities and choosing the right kind of foods to stay fit and stylish. As we all are aware of the unhealthy eating habits and not working out daily might further lead to obesity and health hazards in the later life. Parents must also educate their child about healthy and unhealthy food, emphasizing on daily workouts as well as demonstrating them with changing nutrition and exercises and what impact it creates on one's body.
This worksheet is easy to use enabling you to go through everyday diet, workout and easily analyze it as it provides full data from which you can draw conclusions. You can calculate energy and nutrients from a diet or a recipe and can compare the same nutrients provided by other edible items. Furthermore, compare your diet per day from dietary reference values to ensure that you eat according to the requirement. It also facilitates weight loss goals through your exercise data by watching charts and updates the progress you have made since the past days! Diet and exercise analysis worksheet provides a complete log of your exercise duration, calories burned along with calories, carbohydrates, fibers etc. in the food that you have consumed.
How to use this Diet and Exercise Analysis Worksheet
The given diet and exercise analysis worksheet is prepared using MS Excel. It consists of three sheets to carry all information one needed to deal with this template. We can review each sheet with a preview so that user gets familiar with what it contains and how to deal with this.
Sheet#1 set your GOALS for weight loss
This sheet carries information related to your personal information before you start using this template for the purpose. You will set goals to reduce your weight from its current value to target number. You must mention from which date you are going to start including end date. The template will itself calculate for you the total number of days and to how much weight you will have to reduce in one day. Sheet#2 and 3's information about DIET and EXERCISE has been included also in the graphical format. Dietary analysis graph will highlight about your diet intake such as fibers, sugars, carbs and calories for each day. Exercise analysis graph will highlight about your exercise duration along with how much calories you have burnt for a typical workout session on a particular day.
Sheet#2 DIET information and data.
Use this sheet to record your calories intake for each day at different time schedules. You can mention which particular diet you have taken and what amount of calories, carbs, sugar or fiber it contains. You can add any necessary NOTES also for each day.
Sheet#3 EXERCISE Details
This sheet will record all your exercise plans to burn a specific number of calories. For any chosen day you can add your exercise duration, calories burnt and some reminding notes. The NOTES column may refer to which particular exercise you have done to achieve the target.
Preview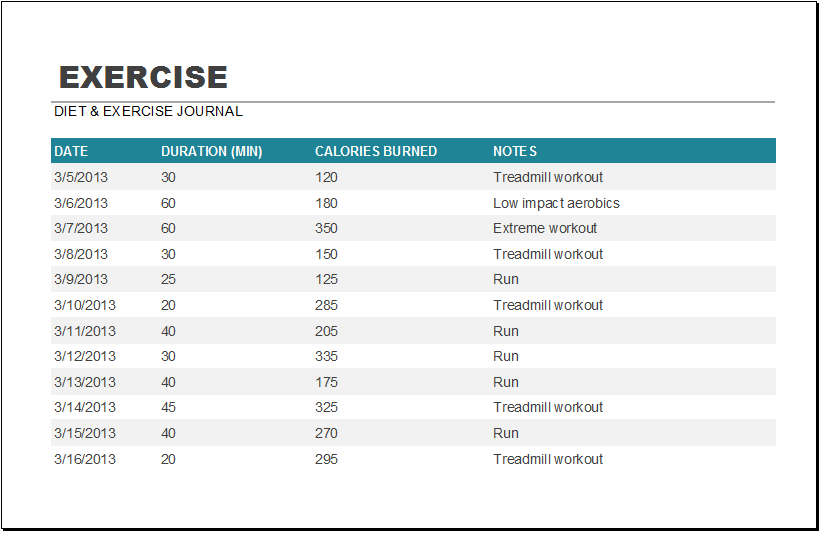 Diet and Exercise Analysis Worksheet
Provided by: ENERGY corp.
File Format: Microsoft Excel | Printable | Editable |
Download size:  Kb