Disco Party Flyers
Flyers are a great marketing and promotional tools that are used both professionally and individually by people to promote an event, cause, occasion or product or service. A flyer is a cheap and easy way to disseminate information to a targeted audience. It comprises of a piece of paper designed in such a way that it may include pictures along with informational data and writings about a given topic. This is one of the oldest forms of advertisements that fall into the category of print media. These flyers may be distributed by hand or by mail or courier services.
Inviting guests on parties is a difficult job. For small parties, you can easily write down and afford personalized invitation cards, but where theme parties or sponsored parties are concerned which are very large in magnitude, the distribution of flyers is the best way to communicate information to the targeted audience.
For example, in case you are planning to hold a disco themed party, you can simply search for the Disco Party flyer template from the internet and modify it according to your own requirements.
They can be then easily printed out either in color or black white and distributed to the people. The Disco Party flyer will contain information like the time of the party, date, venue and dress code extra. If there are some entry fees that can also be mentioned on the Disco Party Flyer.
---
Preview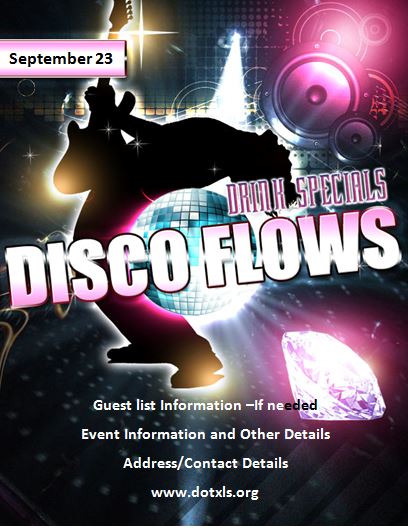 Disco Party Flyer
Provided by: ENERGY corp.
Disco parties are fun with as many people as possible. To gather people at greater number with minimum resources available is a difficult task. Options are much to do the job. One of the options may be utilizing ready-made flyer. If the idea is same then the given flyer is a wonderful choice to perform the task. Download and customize it with suitable changes to invite everyone to your party. Have fun!
Download size: 317 Kb