Have a pet? Oh! You've a huge responsibility since you cannot remain with your pet all the times especially if you're a busy person and keep going out of your country/city often. In such cases being the owner of your pet, you should make sure that your pet remains in sound situations. You might be having a pet caretaker who visits your home in your absence to spend time with it but he too does not remain there the whole day. When you're absent, there are possibilities that your pet might face emergency situations. A fire may set out, the pet might get injured, can possibly be attacked by someone etc. For all such situations, you should make an emergency notification for your pet and give it to your neighbors, pet caretaker or the ones you think it should be given.
In order to make a pet notification for emergency situations, you have to write the following essential details.
Since you are away, someone instead of you should be contacted. Add more than one contact details of the people who you want to be called in case of emergency. So that if one isn't available the other be called.
Mention where your pet should be taken in case of emergency until you come back
Write details of the pet's veteran to be contacted in cases when the pet in injured.
Writing an emergency notification regarding pets is very useful. It reduces the chances of a bad outcome of an emergency situation and helps to keep your pet safe even in your absence.
Preview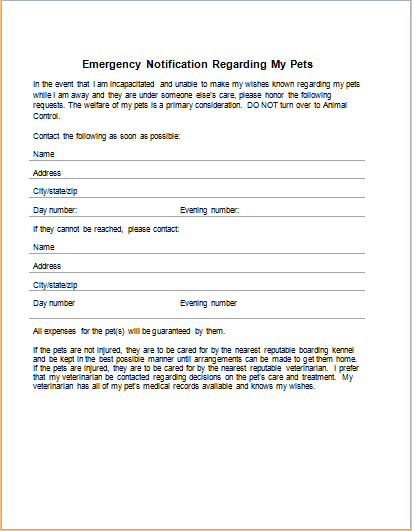 File Size: 44 KB
Download Word (.doc)