VACATION PLANNERS
Planning the vacation time requires you to keep in check a lot of important things that include places you have to visit, days of vacation you are taking and getting in sync the time of the vacation to the places you want to visit and most importantly the finance. Once you have decided all this it is time for you to put down all the important things that you have to carry with you for your vacation time. When it comes to family keeping in mind the needs of the children and the things to take with you in order to ensure the health and other systems stay running is very necessary. Plan your family vacations using Family Vacation Planner Template. Going on vacation with the family pushes to the point where you are required to prepare yourself for all the scenarios that you may face.
FAMILY VACATION PLANNER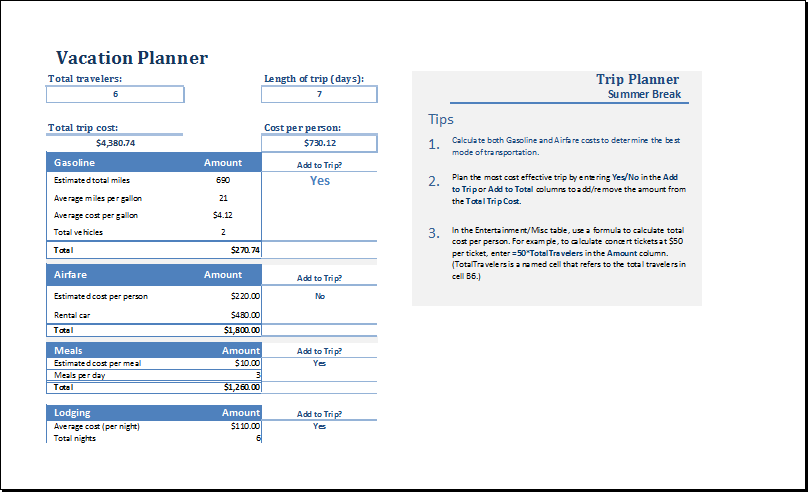 Such as you will have to make sure that your child is protected from all sorts of infections and virus plus you will have to keep medicine with you all times. The another thing is food availability, if you are going to place where you think your child will not be able to get the nutritious food then it is good that you take with you the canned food. Proper clothes with respect to the weather and all the finance related details that include accommodation and travel all are put in the family vacation planner so that when you leave for the fun time, no hurdle comes in your path.
DOWNLOAD: Family Vacation Planner
TEACHER/STUDENT LESSON PLANNER
Student can learn and plan their lessons using Lesson Planners
For students and teachers, lessons learning and teaching is of great importance. Students who keep up with their teachers always get to the top whereas, teachers who keep their pace according to students understanding they are the ones who really raise a lot of good students. In both the conditions planning is very necessary, the teacher has to plan out how to divide the syllabus per lesson so that it completes in time and also student are not rushed but they understand all that is taught to them in class.
Lesson planner template– an important tool for teachers and students:
We have designed the lesson planner template that is useful for both sides of educational system, the teachers and the students.
With the help of this template:
Teachers can put into action that how much syllabus they are going to cover every day of the year so that the students don't come under unnecessary burden and they actually learn what they are taught.
Students can use this planner to manage their time every day to go through their daily lesson so that whatever that they learn settles down in their mind and they do not feel like they lack knowledge.
The lesson planner template is without a doubt, the best way to put down all your lesson arrangements so that the student can have the detailed know how of what they are learning. Whereas the teacher will be fulfilling his responsibility by not just making students cram but actually learn.
DOWNLOAD: Lesson Planner
MEETING AGENDA PLANNER
To increase productivity of your business make use of Meeting Agenda Planner Template
Meetings are held in offices to discuss the important issues of the business and also to increase productivity. Everyone is always in the time constraint when they come to meeting; this is why it is very necessary that the meeting agenda is well planned out. Otherwise it would be nothing but waste of time for every person present their as it would be going unruly and no one will stick to any one particular point to discuss in. it is very necessary that while you hold a meeting you plan the issues priority wise and also set the time limit for discussion of each point.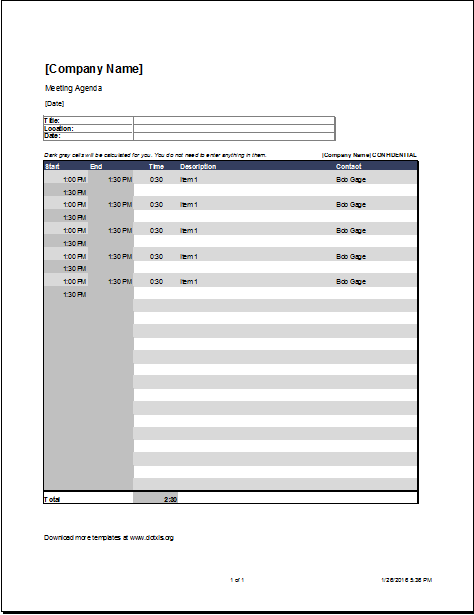 Save time with meeting agenda planner template
If you have already planned out the meeting agenda then the best that would happen is you getting straight to the point and also all the people who are coming in the meeting will be prepared for the issues relevant to them. This all process saves a lot of time from going to waste. The competency of a good boss is also shown with the help of this process. If the boss is not prepared and he is working unsystematic then the employees will not be under complete control ever which is a long term loss to the company.
Meeting agenda planner template that we have designed will help you curb a lot of time in designing the planner. All you have to do is get the template and jot down the issues priority wise. This template is going to show impressive organization skills of you so, get the template for yourself today.
DOWNLOAD: Meeting Agenda Planner
PROJECT PLANNER
Project planning makes use of schedules to plan project and analyze the progress. Projects are of different sizes ranging from simple and small to complex and large. Organizations make use of project planning which is often called project management which allows for them to compare actual performance versus estimated work performed. Project planning give you the benefit to oversee the tasks necessary to achieve the project targets. All employees work altogether to work according to the project plan. This ensures project success. To plan and analyze the progress of any project use Project Planner.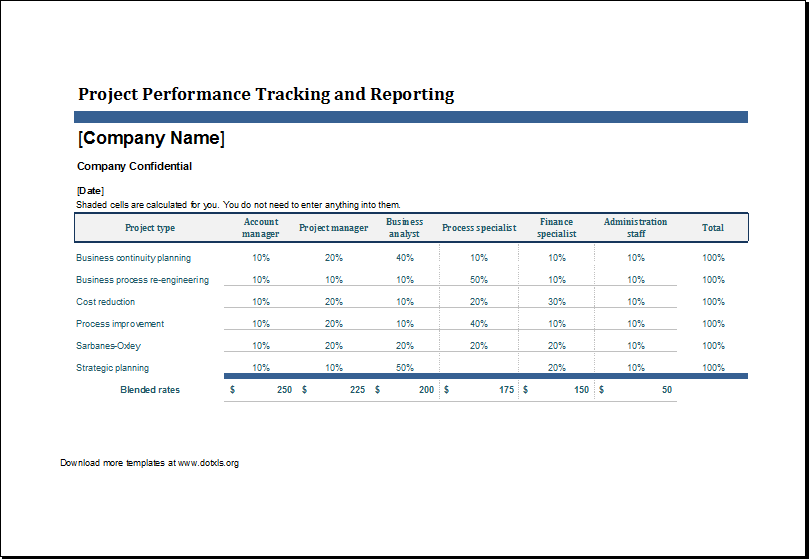 Project Planner Template: ROAD MAP FOR SUCCESSFUL PROJECTS
This easy to use Project planner template helps to enter critical information regarding project. The template offers you to give you details and progress of project in every department simultaneously. It creates a very strong basis for setting up a project schedule. It helps in controlling the overall project during its duration. It shows all the parameters that have an effect on the project. Project planner template creates a timeline for your valuable project. First column shows the types of project on which your company is working on. Against each project, percentage work is allocated to different departments or specialists in order to make sure that the project is running smooth. Note that total percentage at the end of each project in grey cells equals to 100. You have no need to enter any figure in them. Just use it as it is.
Don't waste any time and start planning your project with the help of our project planner template. This template gives you opportunity to customize the agenda according to your requirements.
DOWNLOAD: Project Planner Template
LEAVE PLANNER
Being a business owner requires you to manage the leaves of your employees. It has to be done very vigilantly because or otherwise at the time of need you might get caught up with less staff and this would be a great hit to the company's production. But with the help of proper planner you would be in good place always. Employees are humans and may have problems of their own that can force them to get the leave but to manage these leaves are of great importance. For this we have designed the leave planner template for you. Make a good record of the attendance of your employees use Leave Planner Template.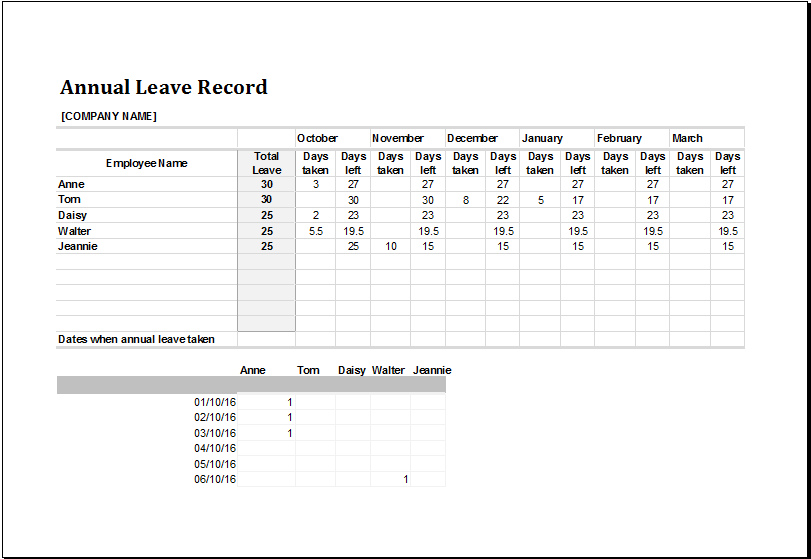 Management of employee leaves and work load
Around the globe, there are leaves that are accredited to the employee such as sick leave, vacation leave and many more. They choose to take the leaves when in dire need. But the management of leaves such that the employees are not put down whilst the important consignment is to be worked on is very important. This means that you need to have the proper planning system. This system is devised by us already in the form of leave planner template. It designed with simplicity to bring convenience to the owner right away.
The template is rather very composed and also very simple to use. It will be designed according to your requirements and don't hesitate to inform us about any changes that you might want to be incorporated in the template. It is designed for you ease and convenience; so get the leave planner template and make your business process smoothly.
DOWNLOAD: Leave Planner Template