Father's day is an amazing day to celebrate your love for your daddy. All the fathers of the globe expect something cute and loving on this day from their children and grandchildren as well. Many believe in holding a party for their fathers and many tend to give them a surprise by making something special for them. In each way, the celebrations made are a symbol or way of showing love and respect to fathers!
There are many clubs which work on the party organizing of father's day and these clubs come in movement when the special occasion is upcoming.
Flyers are the most utilized form of advertising and spreading information in regard to some product or event. Companies and business owners use flyers to promote their business and its related events and much more. This single sheet document comes with a purpose of attracting public towards it and it does it quite well if it is made in an appealing and eye catching way. While creating a flyer, one should always keep some basics in mind and they have been enlisted below for you;
The idea and theme of the flyer must be matching the topic of the flyer.
It should be unique enough to make people look at it and read it.
Use nice and stylish font
Short sentences are preferred, avoid overwriting
Keep the basic details in mind and jot them down on the flyer, like contact details and venue info is a must.
---
Preview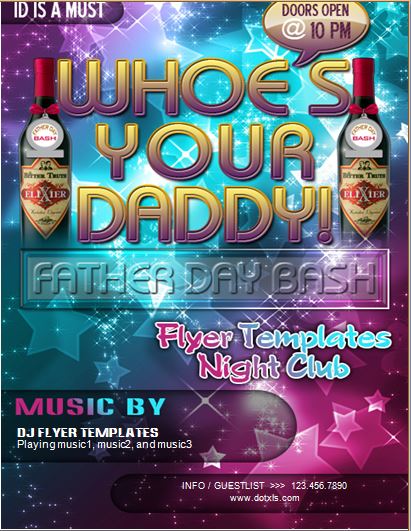 Father's Day Club Party Flyer
Provided by: ENERGY corp.
Celebrating Father's day with a big bash is the happiest moment for the kids or people belong to any age group. Nothing can be better than rejoicing happy moments with one's daddy. Invite your loved one's on the occasion or spread words about it using given Father's day club party flyer. Also, It is MS Word document with all editing options available.
Download size: 569 Kb