In the modern times, fitness is more and more related to the weight of the person. Of course, it should not be because only thin people are healthy but because if you go below a weight threshold or go way above it, the both are hazardous for a person. When you are very weak or thin it means that you are cutting on your food and maybe you are forcing yourself to chow down the tablets or other things that may make you thin. These all conditions are not really acceptable. So to make it balanced you are required to keep track of your weight and most of all your fitness.
For all those people who are very keen on getting their fitness and weight balanced and most of all stay healthy then the best way to do is by keeping track. So for your convenience and health, we have designed the tracker template. You may record your weight every day or after three or four days or maybe a week depending on how soon you want to lose or gain weight. This is the template that will help you get all your eating habits, exercise and many other things brought to an order. So what are you waiting for anymore? What you need is the fitness and weight measurement tracker template that really makes it worthwhile to work hard on your fitness maintaining. So have a fun looking good and being healthy inside.
How to use this template
This fitness and weight measurement tracker have been prepared using MS Excel. This template is a perfect choice for anyone who plans to start working on his/her fitness and weight measurement. This template in MS Excel file consists of two sheets. One with data entry and the other is the dashboard. Data entry sheet will be used to input all necessary information and the dashboard will show us the output summary in graphical form. The user is expected to be little familiar with the layout of MS Excel and understanding of graphical results. All data entry is required to input date wise. For each fitness working day input information about your weight, forearm, hips, wrist, waist and chest. The template will itself calculate for you next results about your bodies estimated weight, fat and mass index which is referred as Body Mass Index or BMI. Calculations have been made already so you will see results automatically prepared for you. You can choose a tab given to select your height also. Next sheet is dashboard which shows comprehensive analysis of all of your input in the form of simple graphs. The results are shown for chosen number of days. You can analyze easily about your weight measurement from the graph.
---
Preview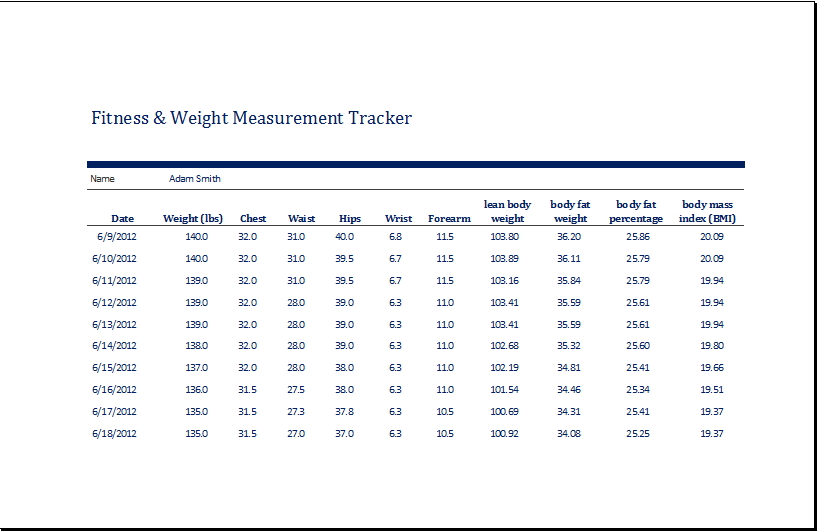 Fitness and Weight Measurement Tracker
Provided by: ENERGY corp.
File Format: Microsoft Excel | Printable | Editable |
Download size:  Kb