Fitness Certificates
There are various types of organization and companies that require the potential employee to present a fitness certificate before making the actual hire. Depending on the nature and type of work done in the organization, they need their employees to be physically fit and sound at all levels.
A fitness certificate is a document that is presented to an individual after careful medical and physical examination. This certificate indicates that the person under discussion is physically and mentally up to the mark and standards that are needed to carry out certain tasks and activities as part of the job in any particular organization. There are many companies that require the fitness certificate to be provided by all employees. This may be a compulsory requirement or optional.
Importance of being physically and mentally fit
The fitness test or certificate may be given out by the following:
The fitness test for the certificate may be carried out by a totally third party which is neutral in all activities
It can be provided by a specified party that acts as an ally or business partner to the organization.
Using Fitness Certificate Template
The fitness trainer certificate template can be found on various online websites and are easily downloadable. Anyone looking to draft a fitness certificate can browse the internet and find such a template to make his/her work easy and comfortable. Although it may seem like a tough process for some others find it interesting and fun. Thus certificate template can be very useful for new entrants.
---
Preview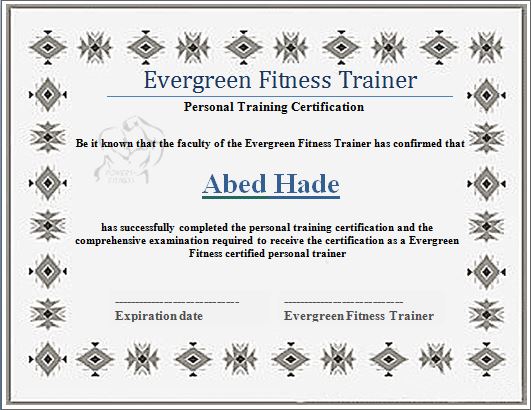 Fitness Training Certificate
Provided by: ENERGY corp.
Fitness trainer certificate is designed for all fitness training centers to award individuals who have completed their training according to training centers fitness schedule plan. It is completely editable in both text and layout. Any authority can utilize this certificate with little changes.
Download size:  298 Kb