Summer Night Party Flyer
The flyer is one of the most commonly used items in the communication. It is used to send some information without any purpose and at times with purpose as well. The flyer is thus used for general communication as well as in business communication where you have to generate a response of your choice. It is most commonly used to provide information for general or specific purposes. The flyers are the most frequently used tool in spreading the words around. It can effectively carry the information to the target audience without any distortion. You can access masses using a flyer to good effect.
It is the beauty of this piece of paper to carry your information in the best way. The flyer comes with different designs and different contents. It all depends upon the requirement and the choice of a person. The flyer in word format is always easy to edit and can be stuffed with content you want quite easily. The summer night party flyer template is designed just to serve you with a Microsoft word flyer.
The template can be downloaded directly from given source for absolutely free. It can be used to design a flyer for any kind of purpose. The super stencil is supplied with all the stuff that can be required in the composition of a better flyer. Given template is ready to use and can be customized quite easily. You can carve a real fine flyer using the content of this stencil. It will make it quite easier for you to carve something better in quick time.
---
Preview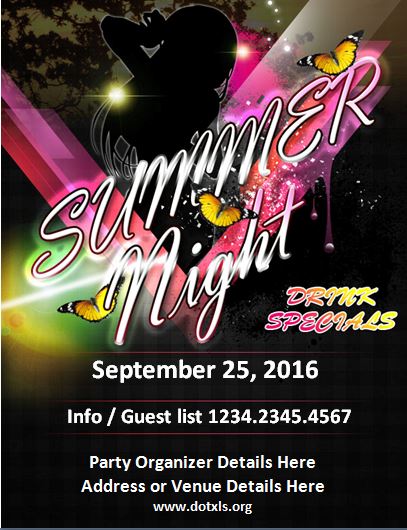 Summer Night Party Flyer
Provided by: ENERGY corp.
Summer night party flyer is a wonderful & out of the box tool for summer parties. Young, old and people belong to any age group can utilize this colorful and attractive flyer to spread the message about rocking party.
Download size: 228 Kb