Pool Party Flyers
Pool parties are so in style these days and obviously with the heat so high, who would mind a day out in the pool, simply relaxing and letting the heat out? Well, everyone adores the idea of it and that is why a number of pool parties are held now and then during summers.
A gay pool party is, as the name says, only for boys and with that, you can vary with the ideas and themes of its flyer. Now, people might think, that a gay pool party flyer might be attended by other people as well since flyers are sent out to the public…But why would women come in for a party which makes it visible that its juts for guys!
There are several ideas about the theme and background of a gay pool party flyer. Pool party flyers are usually wrapped around the idea of water and drinks and endless fun. This is exactly what a gay pool party flyer should show off. Champagne bottles or vodka glasses can be added to the flyer to give it the ultimate touch of "naughtiness." Music elements can also be a part of a party flyer since music is the heart of all parties and adds life to it as well.
Just like all other flyers, adding your contact specifics, the name of the venue, the timings, and date…all of these essentials are not to be neglected ever! So, head out and create your own flyer with a variety of ideas that might be popping in your head now!
---
Preview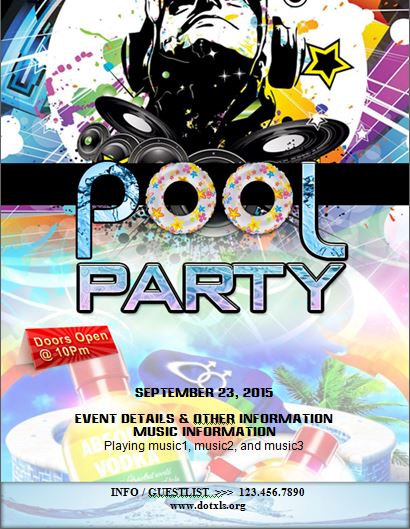 Gay Pool Party Flyer
Provided by: ENERGY corp.
Pool parties are great fun in summer. It may vary in its type and the one that cannot be neglected is Gay Pool Party. The organizers may need to have a flyer that helps them spread their word in a quick and easy way. The given flyer is absolutely for the purpose. Since it is designed using Microsoft Word so it makes editing of text and layout very easy. Go for it, customize it and spread the word to invite everyone in the coming party.
Editable | Printable
Download size: 392 Kb