Party Flyers
Graduation is a very special event for all the students and it is a definite call for celebration. Ask all the graduates how happy they are when they get their graduation cards in their hands and are finally able to let their books subside and head into the life which they have been preparing for, for years.
Graduation party must be happening and larger than life. And obviously, with so many graduates, everyone cannot be invited separately…so at this point flyers are distributed all around the institution. Flyers are inexpensive and do their job quite well.
Get a flyer printed and post 10 of them, in different locations of the college, so that everyone can view it! See the difference? Instead of sending out invitations all around the college to the graduates, just 10-15 flyers can do the job very well, within a small amount of money…you won't even feel your wallet getting lighter!
Coming to what ideas can we put into a graduation party flyer? You might find some incredible ideas via the internet as well as many web pages have a variety of ideas relating to flyers of all sorts. Usually, graduation parties have a theme of a degree and graduation cap in the background or the flyer is centered on it. The main details to be mentioned on it are usually the venue, the exact timings, date and day. Other than those people know what the event is actually about so no features are required to be mentioned.
---
Preview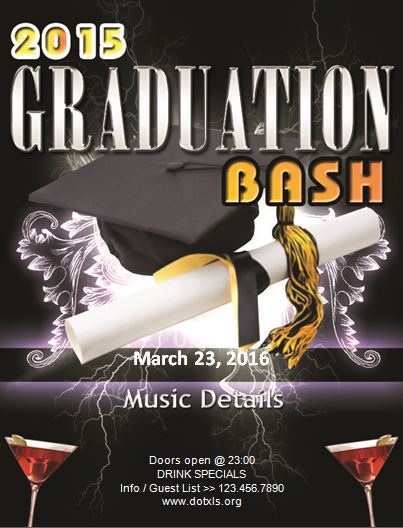 Graduation Party Flyer
Provided by: ENERGY corp.
Enjoying your graduation party, How? It's hard to invite so many graduates individually. The idea can be using flyer…Graduation party flyer. A wonderful tool to do a lot in short time. Invite everyone to your graduation party using given flyer.
Editable | Printable
Download size: 938 Kb