Halloween Party Flyer
Halloween is an old and ancient occasion that is celebrated worldwide with a great amount of enthusiasm and fun. It is a holiday that occurs every year on the 31st of October. The term Halloween has been derived from the long version called the All Hallows Evening. That is why it is sometimes also known as the All Hallows' Eve.
The Halloween holiday is marked by a number of different fun filled activities like Trick o Treat, Lighting of Bonfires, parties with costumes and themes, trips to haunted and horrifying places and decorating the houses and other buildings with jack o lanterns and other spooky objects and things.
The Halloween Parties are celebrated each year all over the world. The concept was introduced to Northern American through the immigrants that came from Ireland and Scotland. The festival is originated back to the ancient occasion of Samhain which is a Celtic festival. Many people organize special costume parties on the occasion of Halloween. They invite friends, family members, and community members by using Halloween Party Flyer.
You can create very attractive and spooky sort of Halloween Party Flyer at your own home. Just search on the internet and you will get hundreds of amazing and innovative ideas. There are also already designed templates that can be downloaded for a small amount of price and used according to your own requirements and needs. The Halloween party flyer should be designed in line with the theme and scary feel of the occasion.
---
Preview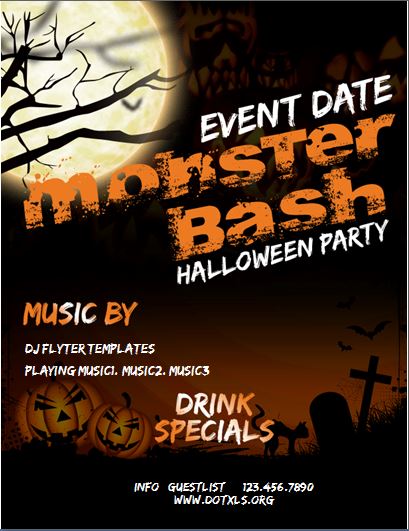 Halloween Party Flyer
Provided by: ENERGY corp.
Invite your friends, family members and other community members using this Halloween party flyer. Editable using Microsoft Word software.
Download size: 552 Kb