Being humans we all feel sick at some point in our life. When it happens, one visits a physician's clinic or a hospital. Diagnosis is made, medication is suggested. Sometimes the problem is serious enough to be treated via surgery. All that happens is recorded and hence becomes the medical record of a person. Your name, number, details might be told by you or by some of your relative to the doctor but what the doctor writes as a conclusion of his diagnosis is surely written by him. Since doctors are humans, they also make mistakes. A doctor might record your details wrongly. Now, that the details are your medical record which is a legal document too, what is there that you can do to solve this issue? The solution is; giving a statement of inaccurate medical record.
Most patients never take the copy of their medical record. It is, however, a safe practice to request a medical record copy once you're done with your treatment. This is so that you can review what has been recorded. There may be some mistakes that can later on, cause problems for you. For example;
Your address might not have been recorded correctly. In case your record is later to be posted at your address, someone else will receive it. How frightening is it to receive a document telling you to have a weird disease? You'll notice that the name isn't yours only after half your soul is gone with fear.
In other cases, the diagnosis or symptoms might not have been recorded as the physician told. In all such cases, you can make an inaccurate medical record statement, telling the relevant persons that your medical record has been inaccurate and needs to be corrected.
Look at these sample of inaccurate medical record statement given below.
Preview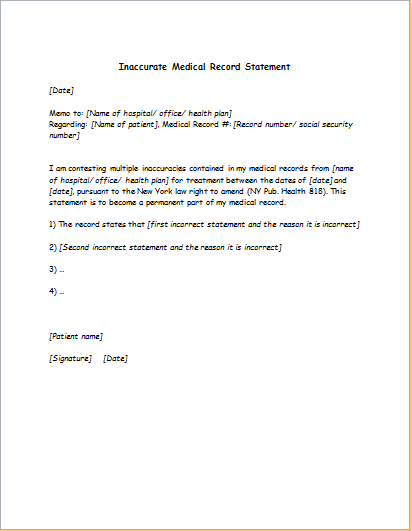 File Size: 28 KB
Download Word (.doc)