Club Flyers
Island parties are the heart of every summer! And with the heat coming with all its pressure, the island clubs are also back in action now…maybe you have had an island party flyer in your hand even? Well, since the weather requires the island parties so much…get ready to spread out some amazing flyers for it.
Flyers are a very cheap medium of advertising simply anything; a business man would promote his company or a product launched by his company…likewise, he can also use flyers for informing people about an event he is holding or a charity occasion.
Coming to the point that why flyers are so much in use now? Well, there are some simple reasons to it which sum up quite amazingly that why are flyers the best medium for any sort of promotion:
Firstly, they are THE cheapest thing that you can get in the name of advertisement.
Where invitations are given handy…you just paste the flyers around the area or wherever you want to and your job is done. If you need 50 invitations, the flyers will get your work done with 20 of them.
If made attractive and really unique, they become the reason why people come forward to look up to your product or attend your event.
However, if you want your friends and family to attend island hopping club party, then make sure that your club flyer is simply awesome! It should have the magnet power to attract everyone!
---
Preview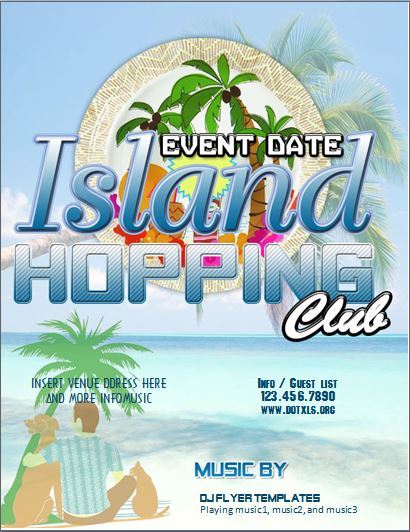 Island Hopping Club Flyer
Provided by: ENERGY corp.
Microsoft Word Format Design | Editable & Printable
Download size: 371 Kb