Dresses Party Flyers
If you are planning to hold a party with the theme entirely black then your flyer can be one of the best ones you would have ever seen! Women love black and scantily dresses are totally in fashion these days. It isn't a bad idea to go for a little black dress party, for sure, but you also need to gather women, who are ready to go along with the theme of little dress and black!
Women are the heart of any party and when it comes to a short dress party, then maybe your eyes would be dying to see some of the most appealing women turn up! Is your flyer attractive enough to gather beauty in the party? Well, here are some small tips may be your flyer will hit the eyes of all the gorgeous ladies out there…
Offer drinks that women love most…name some of them on the flyer or just make it quite prominent, like, "women friendly drinks available." Even better idea is to make them free!
Put up a competition because women do it all the time, in the name of fashion. The best-dressed women will be rewarded with "whatever you are ready to give away!"
You can even dare them (women love it)…Let's see who shows off the best of them in some stunning scantily dresses! It might do the job for you.
Just make your flyer the kind of "popping in the eye" type, so that women cannot resist your party at any cost!
---
Preview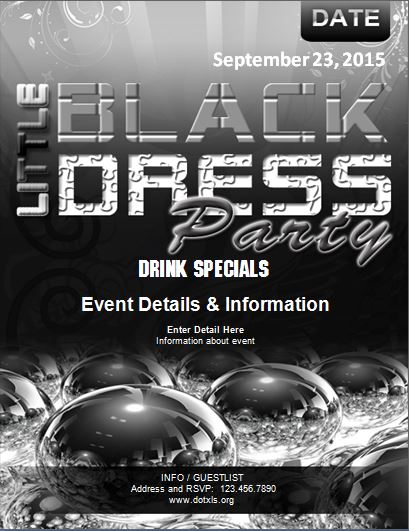 Little Black Dress Party Flyer
Provided by: ENERGY corp.
Black dress party flyer will hit the eyes of all gorgeous women to turn them up and invite in the event that you have organized. Customize all necessary information and your flyer is on the go.
Editable | Printable
Download size:  394 Kb