Fiesta Flyers
Fiesta is better known as a festival which is wrapped around in religious and cultural thoughts and ways and if you need to advertise your Mexican fiesta to let a lot of people in it, then maybe you need to play with different ideas as well.
Flyers have been considered as one of the most important means of promoting and advertising a lot of various things. One can easily spread the words out for any event, product or company. They are reasonably priced and that is quite obvious, because how much can a single sheet of a paper cost? But this cheap flyer can really demand some hard work from you!
The question arises about how to make your Mexican fiesta flyer stand out amongst the rest? There are some really easy and simple tips upon which you can create a flyer which attracts viewers and crowd to your flyer and the fiesta event as well.
Try to use a unique, short and eye-catching title for your flyer.
Give up something free…drinks are the most appropriate option, so bring out the feature of FREE DRINKS; no matter what high-class people you are aiming to invite, everyone loves something free.
Bring a big picture in focus; avoid using two to three images in one flyer…mix all the elements within one!
Just stick to one idea and don't create a haphazard flyer…the consumer must be confirmed by what he is viewing!
---
Preview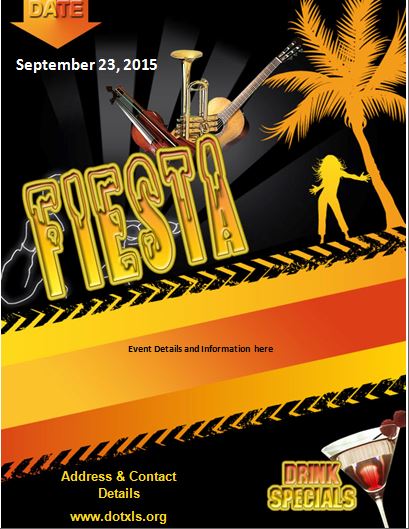 Mexican Fiesta Flyer
Provided by: ENERGY corp.
Attract viewers and crowd to your fiesta event using given Mexican fiesta flyer designed and developed using Microsoft Word software.
Editable | Printable
Download size: 364 Kb