Meetings and Meeting Agendas
Whether you are just an average businessman or an above average one you have to sit through countless meetings. You can easily make your meeting more efficient and effective without much trouble, let's see how. Pass on this golden advice to the time wasters of your corporation as well as your friends so they could also make use of something great. The reason why many meetings go in vain and are ineffective, time wasting, under planned, unnecessary, underutilized, and well just plain is because the facilitator did not put in effort and is little or not at all prepared on the front end.
YOU CAN COUNT ON US FOR ALL THE BEST TEMPLATES – UTILIZE YOUR MEETINGS TO THE FULL POTENTIAL
To help improve your meetings and their outcomes, we have brought to you this free meeting agenda templates. Whether you are unsure or you are nervous before your meeting, our agenda templates are always there to rescue. It will help you keep things moving smoothly and ensure that the meeting doesn't digress from the topic and stays to the point. The templates give you space to list who called on the meeting, attendees, type of meeting, and what was discussed during the meeting. It allows you to pre planned on the topics that should be discussed, the speakers, and the time allotted to each speaker. It also reserves extra space in the end for additional information. So, what are you waiting for? Don't you want to grab on the opportunity to end making your meetings a complete waste of time.
---
Preview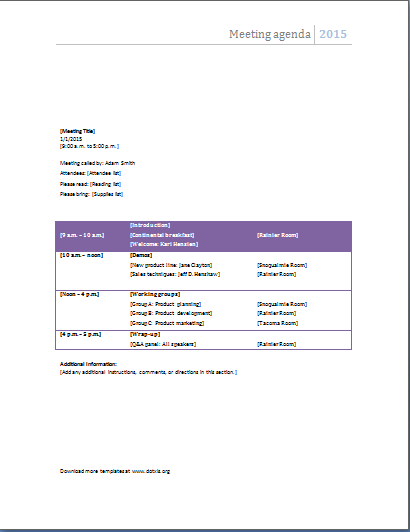 Meeting Agenda Template-1
Microsoft Excel document file | File size 80 KB | Download
---
Preview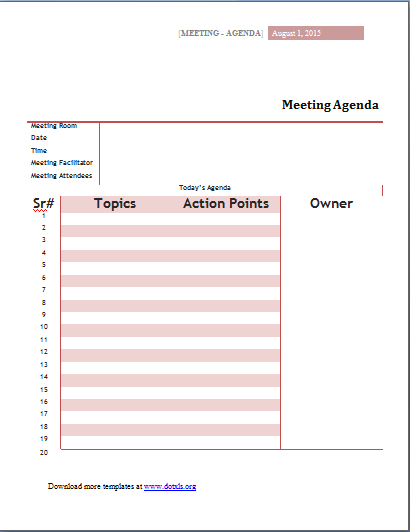 Meeting Agenda Template-2
Microsoft Excel document file | File size 221 KB | Download