Business Gift Certificates
Gift certificate can be served as a document that shows feeling of love and affection towards other at some occasion. This is another gift certificate template that can be used for the business purpose. The certificate contains wish messages for the customers. A well decorated document with wishes written on it can be an occasional gift for the friends or other people even to surprise them. As a businessmen or manager this certificate works amazingly well to present it to other business friends, clients or colleagues. The template can be made simple as well as colorful and attractive. Simple entries are required to fill in this document. It can be sender and receiver's name with wishes along with business oriented text.
We have prepared a sample business gift certificate template for all of you to use for this purpose. This certificate is prepared using MS word. The color scheme and fonts are chosen from most commonly used category. This template is easy to use and is available free of cost. It can be downloaded directly by clicking on the link "download" at the bottom of page. Preview of the gift certificate is also available to have an idea about how it looks. It is available to use in its original format. However, any one can download this business certificate template and can make changes accordingly.
Business Gift Certificate
Provided by: ENERGY corp.
Business gift certificates are handy tool for business. Utilize this certificate for your customers so that they don't forget you and keep coming back.
Download size: 223 Kb
Employee Gift Certificate
This gift certificate template is designed for all those companies who want to surprise and make their employees happy with gift certificate. This template is well usable at this occasion. The employee gift certificate can be used for multiple purposes. It can be used as holiday gift, birthday gift or wedding gift for the employees from the company or department.
The sample template is well designed by expert professionals. The certificate contains company name and logo on it. Some other details like gift name date and well-wishing message space is also provided. It is designed using MS word that is unique in respect to make changes in it. The user can easily edit or customize the template by opening it in MS word. It is also helpful as it contains three certificates on one page. It saves time in case many gift certificates are needed in less time. Also it is very user friendly in terms of its appearance. The color scheme chosen for it by default is very attractive. Font size and style can even be easily changed. Color scheme can be set to user's satisfaction. Another good thing about this is it is completely free to download. Preview of this template is also available.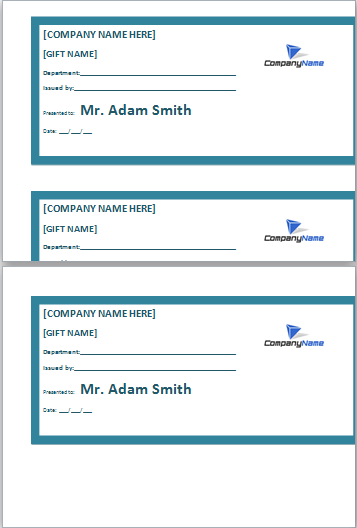 Employee Gift Certificate
Provided by: ENERGY corp.
Employee gift certificate is a wonderful tool to award your employee with some encouraging gestures. Use this ready made certificate to do the job in a professional way.
Download size: 51 Kb