You can't easily buy a pet especially if you're in the United States. Pet owners want to make sure that you are the right person for their pet. In order to assure their pet will remain in sound health and environment, there is a pet sale contract made before one buys a pet.
To make a proper contract document for pet sale, know what is necessary to add. Usually a pet sale contract is a contract that contains the details of the buyer and the one buying and other details and clauses that are here under;
Details of the pet
The one who is selling should be honest in dealing, hence should vow in contract that the pet is in sound health as per his knowledge. Documents of health record of a pet should be provided to the buyer.
Within the contract, the buyer agrees to take his pet to a veteran within 48 hours and in case pet is diagnosed with any sickness, it will be returned to the seller.
The buyer in a pet sale contract agrees to keep the pet with the conditions as mentioned by the seller.
In case the buyer fails to keep the pet according to the guidelines given by seller, he is supposed to return the pet to the pet shop owner.
In case the seller wants the buyer to not do breading of the pet, a clause prohibiting it should be added.
Both the seller and buyer should agree to the terms and show their agreement with their signatures at the end of the contract.
Content of the pet sale contracts varies from provider to provider as every pet provider may want to keep his own conditions. There are however some standard pet sale contracts that may help you design your own per sale contract.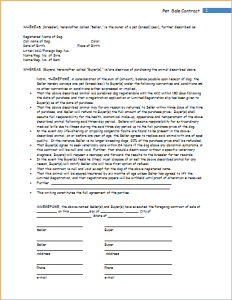 File Size: 48 KB
Download Word (.doc)