Pregnancy is  the most thrilling time, knowing that you would have a new baby to cherish and love makes it worth the effort and wait. Planning the time of your pregnancy is important to enjoy it, and you can only plan it if you have complete knowledge about the time of your pregnancy, how far is your due date and if your pregnancy is going on normal and healthy.
In a pregnancy calendar you can not only calculate your due date by marking which week your pregnancy is currently at but also see the progress of you baby. The pregnancy calendar also has images and illustrations about the growth of the baby at each stage as per week of the pregnancy. This calendar not just shows how your baby should look at a specific stage of pregnancy but also lists how you might be feeling emotionally and physically. It also lists step by step growth you should expect from your baby e.g. In which week you should feel your baby's heart beat or in which week your baby should start movement etc. This calendar has two formats, month by month progress and week by week progress. Pictorial format makes it more interesting and exciting.
This calendar makes it easier for you to understand the changes going inside your body and accept these changes. When you know what to expect and when to accept you would feel more relaxed and stress free and would enjoy your pregnancy more. It would also help you to know what to ask from your doctor and when to feel alarmed.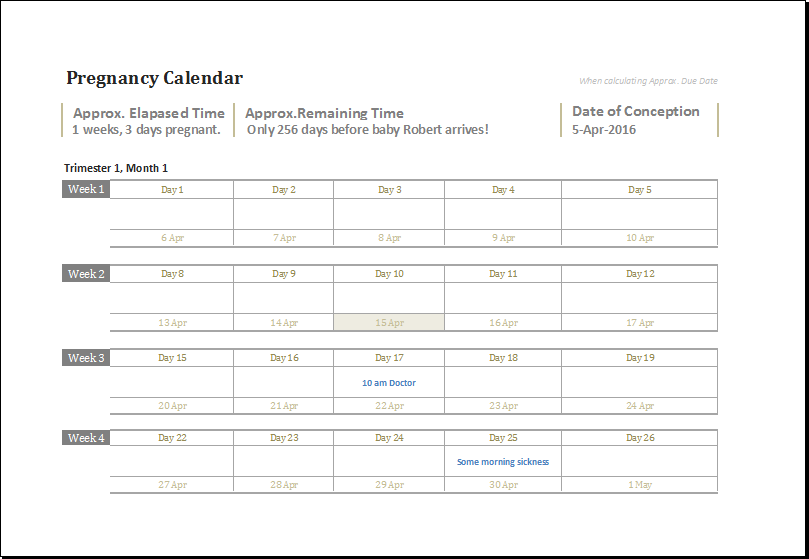 Pregnancy Calendar Template
File Size: 69 KB
Download Excel (.doc) 2007 & 2007+