We live in an age where there are a number of options of everything. Every entity, everything and every product is changing. Their demand and their supply trends are always changing and organizations need to consider this when making future decisions. No product can be successful if it remains what it was for a long time and doesn't modify itself according to the needs and demands of the customers and the market.
Product modification is a necessary task that organizations conduct on a frequent basis. Whenever the need for a product modification arises, a product modification report is to be drafted by the management or the marketing department to tell the top management why the product needs to be modified and what would the whole company or the organization achieve from it.
The product modification report has to consist on the history of all the previous modifications and the reason as to why those modifications were conducted along with why the current product modification needs to take place and what will it reap for the organization.
The product modification report also consists of an in depth study of what the modification will be and how will it be conducted.
Always remember that it is not necessary that the modification report be drafted BEFORE the product is to be modified, but it can also be drafted after the whole process has been completed. The main purpose behind this report is to get the approval of those in charges and for documentation as well. In all this scenario having a ready made spreadsheet for the data entry of a report modification will be handful. So, here we have a sample template that will definitely help to do this job in no time.
Preview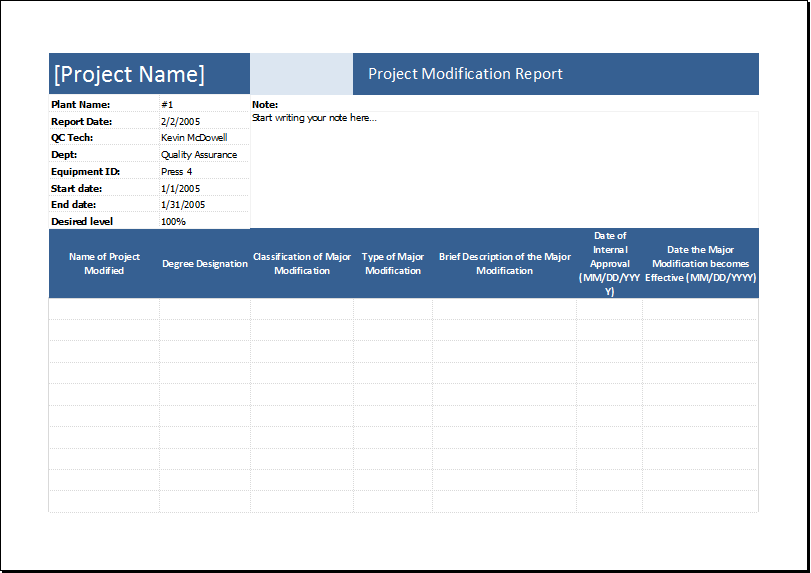 Download Excel (.xls)
File Size: 60 KB