A purchase request form contains a request for certain goods or services. The request may be made by an individual or an organization. In the case of latter, goods may be requested in bulk.
Such forms can be posted to the concerned company for the acquisition of the required products. On the other hand, these forms are also available for online shopping. Customers can easily fill them online to place their request.
Companies can make their own customized forms for their clients. On the other hand, a client can also create it through a purchase request form template.
It can be useful in a number of ways. Firstly, it is easy to use and requires no technical expertise. In addition, it helps in making customized order forms. This job can be accomplished within minutes without facing a hassle. There is a ready-made layout which can be used to prepare the form.
Further additions can be made according to particular requirements. For instance, an organization can add its own name as well as a logo.
The form may extend to more than one page for large order requests. The template can help in adjusting the size of the form according to the requirements and demand. It is a simple document. There is no need for any specific designing. However, the overall format should make the contents easily readable. The font size and style should be selected accordingly for this reason. Use the template to make these adjustments and create the perfect purchase request form.
Preview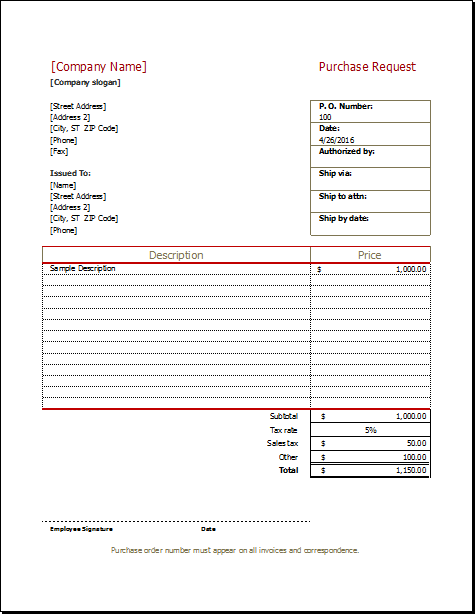 File Size: 28 KB
Download EXCEL (.xls)