Rave Parties
Are you holding a rave of your own or your school has demanded it in form of a project? Well, you surely need a flyer for it and if you need any tips for that, then you have certainly dropped by the best place to dig in for some really helpful and quick advice.
Have you thought of an idea or theme for your rave flyer? Maybe you have sorted a specific name for it as well. If you have some ideas then it is very good. How? You will be able to give each rave flyer a special and different look since all the same flyers make it a little too boring.
Originality is a very important feature and tip! Stay original and realistic. Original in manner, that doesn't add up anything in your flyer that your rave isn't going to have and as for being realistic, don't fantasize your flyer! Keep it to the world…do not go into fairy lands and all.
Give the first thought to your size of the flyer since everything actually depends on it…how much space you will have to write and how much can you actually fit in it; this all is very essential.
If you are good at drawing and by good, I mean really good, then try using your own sketches in your flyer…it will attract a lot of people!
Don't forget to proofread it…Even if an "a", "an" or "are" is the wrong place, it will simply destroy your image!
---
Preview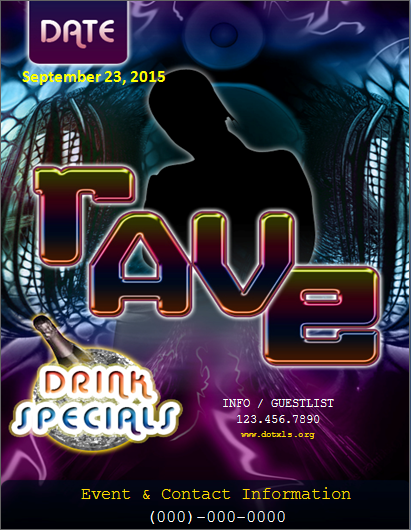 Rave Flyer
Provided by: ENERGY corp.
Microsoft Word Format Flyer | Editable & printable
Download size: 341 Kb