MONTHLY ACTIVITY SCHEDULE
Every month comes with a lot of new events and occasions en-wrapped within which we need to prepare for. This means keeping the monthly activities in order is the most important factor that we shouldn't neglect at all. The monthly schedules will help you put in all the information of your activities month wise and then plan ahead for the occasions coming up. You will be able to manage all your commitments keeping in front of organized schedule. This means that your time will be set perfectly alright with the schedule that you will make using our monthly schedule template.
A wonderful way of organizing your month's activities
The best and easiest way to bring all your appointments and deeds in order is with the help of monthly activity schedule template that we have designed. It is just the perfect way to make your month go by in an utter harmony and calm that you haven't experienced yet.
We all like our days to go by in the most perfectly smooth way and one way is by maintaining a timetable. We have designed a format to bring for you as the monthly activities schedule template. A time table for all the activities of coming month and a comprehensive commitment arranger. When the time comes for any event such as party or occasion you are already set without feeling tired and bad. One might run with having no idea how to live the whole month in last minute preparations. Pathetic!
DOWNLOAD: Monthly Activity Schedule
OFFICE WORK SCHEDULE
Planning an office schedule can help you curb all the work in given time in fact before the deadline. There are many people who do their work haphazardly and this result in getting the work accumulated. It is not possible for people to complete their work in given time because they spend their time in doing other work and thus they lose track of time. Once you are swayed away from the track then it gets really difficult to do the work with great efficiency. To ensure that you do your work properly it is necessary that you make a schedule to help you out.
EMPLOYEE TASKS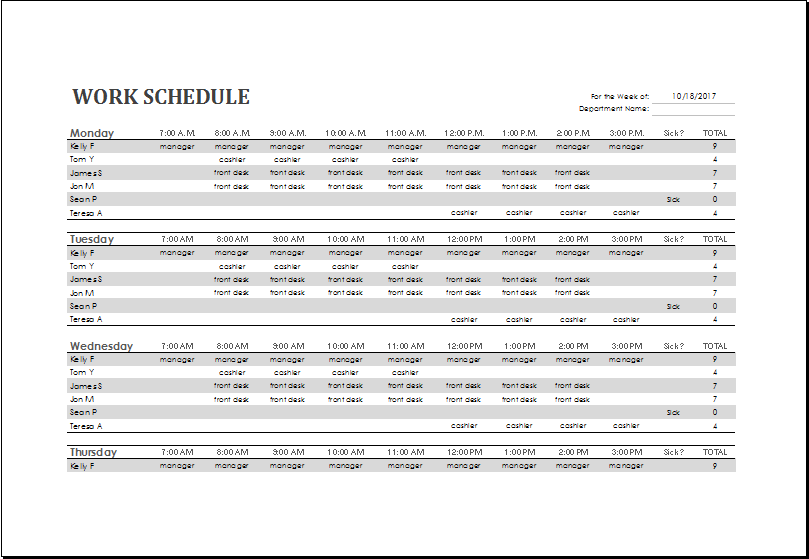 It is the best thing that you have a schedule as this will help you achieve your goal in completing work right away. To facilitate you we have made the office routine schedule template that is no doubt very easy to use. You will be doing office work at the premises of office. Now you don't have to take your work to home for completing in or put in the extra overtime hours. With the help of this schedule template all your work will be brought in order priority wise.
If you have the pending work and also see yourself swaying away from the course of balance of work time and fun time then the best option that. You can be presented with is to have the office routine schedule template.
DOWNLOAD: Office Work Schedule
TRIP SCHEDULE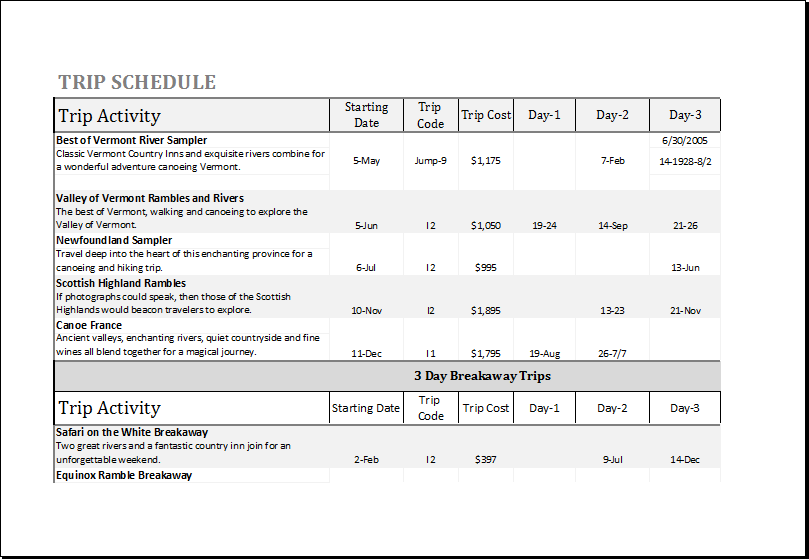 Planning and scheduling of the trip make us have fun that we might lose due to haphazardness. Every detail when planned ahead will save you from losing time while you are having fun. When you stay on schedule you enjoy each and everything that you have already planned. This means your trip can be made really awesome just with the help of scheduling of time and places that you wish to visit.
Make every second count when on a trip:
The most important thing of any trip is that you do not waste any moment sitting idle. Take all the views into your memories, visit all the places and enjoy as much as you can with the help of trip that you are taking.
Take into account all the information that is related to the place you are visiting and mark down the must see places.
Once you have come to know about the places that you should visit, the next thing is to make sure that you divide up your time accordingly this will help you visit all the places without any disruption or feeling as if you have less time and more places to visit.
While you are on a trip it is not possible that you visit every place but it is best that you keep it to maximum places you can, this means you can enjoy your time a lot just by scheduling your time properly and for this you can make use of trip schedule template that we have designed for you.
VACATION SCHEDULE
Going on a vacation means planning ahead for the wonderful days coming your way. Scheduling all about them means that you have to go through all the details that are time related in your trip.
Time management in your vacation
Managing of time in a trip is necessary because that is the only way to ensure that you will be able to take in the breathtaking sights and views of the place you are taking vacation to. What you need to plan for? Let's take a look:
Vacation is something for which first thing is to keep track of your departure and arrival date and time.
The next thing that you have to take into consideration is that how many days are you making a trip of.
Don't forget to go through all the details of the trip and places that you have to visit while on your trip.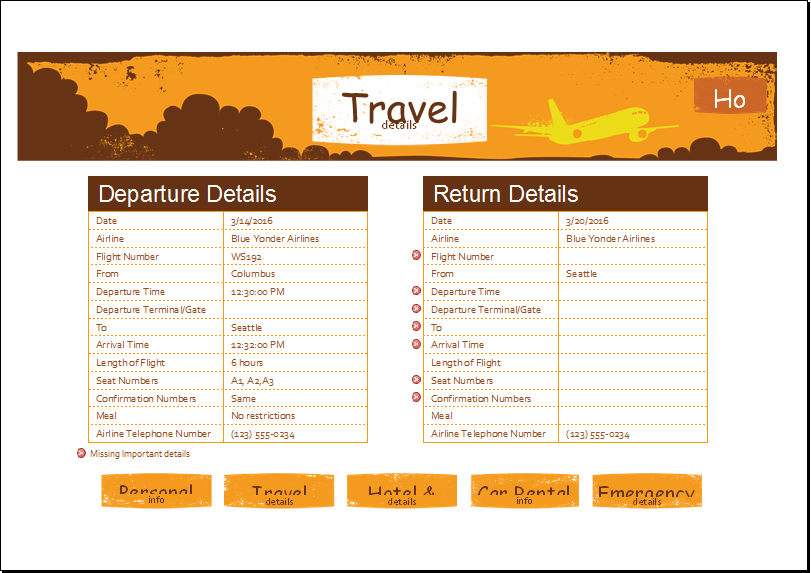 Once you have decided the places and number of vacation days, the next very important thing is to be kept in mind and that is to divide each vacation place time spent according to your time limit and keeping in mind you're all plan.
This is all for the scheduling, decided all about it then jot it down because you don't want to forget it while you are mesmerized by the vacation time. For putting it all down, the most wonderful thing that we have for you is the vacation schedule template. You can have it and plan all according to your will but keeping in mind that time is the essence of all and you don't want to waste even a second staying idle.
DOWNLOAD: Vacation Schedule Template