Party Flyers
Ever since we can recall history and ancient events, social interactions and gatherings have been part of the human culture and civilizations. Parties have been around since time immemorial. A party in modern terms is a social collection or gathering of people who have come together to have fun or for recreation purposes. Parties are used to provide the participant's pleasure and amusement and full-time entertainment and relaxation.
There are different types of parties organized these days. Some are very common while others may be out of the world kind of themes. One such amazingly interesting and rare party is the Snow Party.
The snow parties are specifically designed and planned parties. They are a fun way to celebrate coming of the winter season or even in the summers for a change. All you need to do is hand out the snow party flyer and people will come rushing in. Do not forget to mention the date, time and venue of the party on the snow party flyer. You can collect the snow party supplies from a number of different sources and party houses. Even artificial snow can be found through these suppliers.
The snow party flyer needs to be in line with the theme of the party. It should be properly designed and drafted with snow and winter related colors and themes. Adding to party images and people enjoying in snow can add the right feel to the snow party flyer.
---
Preview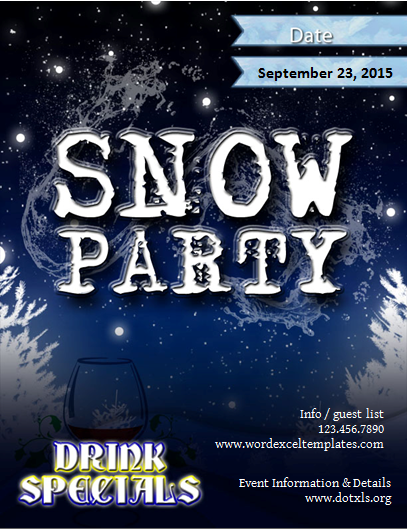 Snow Party Flyer
Provided by: ENERGY corp.
Microsoft Word Format Flyer | Printable & Editable
Download size: 178 Kb