Party Event Flyers
Sports have taken over the hearts of millions of people and soccer is a love of many! Ask the soccer lovers that why do they love the game and they will enlist a lot of reasons for that…informative and quite logical reasons. Well, if you are planning to hold soccer event or you have been given the responsibility of hosting a soccer event and send out flyers in regard to it…then maybe you are seeking for some ideas and themes that might go well with it. Well, then you don't need to worry about it at all, as I'll give you some simple tips through which you can get the idea of how your soccer event flyer can be a hit!
Firstly, keep your theme in the soccer game only…don't go to another side, thinking that you will attract people because you won't! You can ideas and backgrounds and themes on the internet as well, you can obviously take help.
Second, make your heading attractive and bold. Make sure that it is something unique and that your English spelling and usage is completely perfect…don't take chances of mistakes.
Thirdly, think what will attract soccer lovers the most? Maybe you can search the internet again for this about how and what is attractive for soccer lovers and what do they love most about the game. If anything is reasonable and worth it, make it a free catch for them…or make it available at your soccer event…maybe you'll gain extra profit.
---
Preview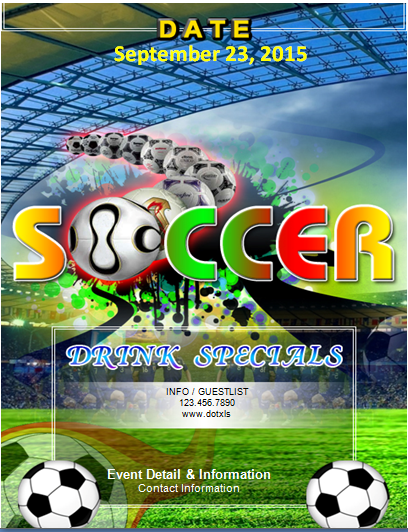 Soccer Event Flyer
Provided by: ENERGY corp.
Microsoft Word Format Flyer | Printable & Editable
Download size: 476 Kb