Dinner Party Flyers
St. Patrick's Day is both a cultural and religious event for the Christian community and is officially celebrated on the 17th of March, which has been marked as the actual death date of Saint Patrick. A lot of events and celebrations are held on this day, in order to give tribute to Saint Patrick and families get together for dinners and lunches since it is an official holiday for all. This is where some large-scale dinners are also held and mostly we see various flyers regarding it as well.
Making flyers for a traditional or cultural event/dinner is a little difficult task since there are some selective themes and ideas which can be used in it…moreover, we also have to keep our mind focused on the topic otherwise, and it can be taken a negative manner as well. Therefore, the flyer must be oriented in a very careful manner.
The most important thing and attractive one as well can be an addition of quotations or sayings of Saint Patrick as well…this will inspire a lot of religious people and will add a cultural look to your flyer.
The best solution to your lack of ideas is the internet…you are definite to find some amazing and unique ideas and themes through the web. There are many websites which provide this facility and you can also buy them online. Moreover, you can also innovate your own flyer by taking a rough idea from the internet…anything will work; you just need to put in some effort!
---
Preview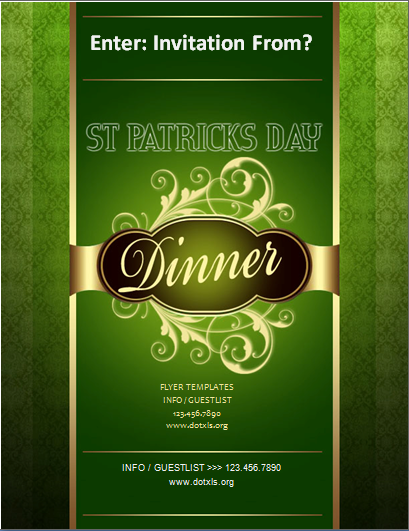 St. Patrick's Day Dinner Flyer
Provided by: ENERGY corp.
Microsoft Word Format Flyer | Editable & Printable
Download size: 152 Kb