Party Flyers
Summer and parties come together and it isn't surprising how both of them fit quite well with one another; just like the perfect couple! A lot of parties are going on in the town and everywhere with the arrival of summer and it is really exciting to see a lot of flyers all around the city relating to various kinds of events…But which flyer makes the people more curious is really hard to guess! Do you really want your summer sun wave's party to beat the other entire one? Then baby, work hard on creating your flyer!
Here are some simple ways through which your flyer can turn out be an outstanding one and maybe a lot of people get attracted to it as well…
The basic thing for any flyer is the theme, background, and idea of it. It requires the most headache and hard work and if you succeed with this…then your flyer is probably a winner. Play with your imagination and take help from the web as well; make the best out of the idea as much as you can!
The second most important feature is the information you write down and in what way to you deliver it. Your usage of language is usually dependent on the type of event…other than that, the tip is to go less hard on the words and stay limited.
Contact details must be there and the ones that you jot down must be answered immediately so that people aren't lost in the way of disliking your party!
---
Preview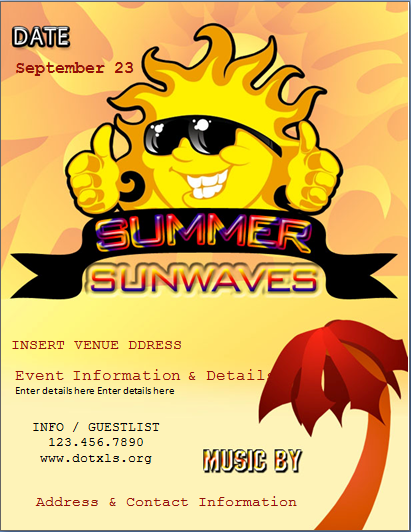 Summer Sunwave Party Flyer
Provided by: ENERGY corp.
Microsoft word Format Flyer | Editable & Printable
Download size: 188 Kb