Party Flyers
People are hitting the beach as the heat is on its way…especially surfer, they just adore this weather! A lot of surf parties are also being held these days and it is mostly a hobby of the new or let's say, upcoming generation to live a life with partying and glee!
Flyers are a medium of selling a company's product, event or simply anything. It has gained huge success over the years since it saves money of business owners or whoever is planning an event. The major work required in this is the creativity that the flyer has to be made from.
Surf up parties is being held nowadays since this is a very good weather to enjoy the beach and the heat…you might be one of those people who is planning a surfs up the party and are in search of a perfect flyer, right? Well, maybe you need to dig in a little in your brain as well and let your creativity come to rise.
The Internet really has some amazing ideas and designs for all sorts of party flyers and they are quite helpful. Moreover, you need to pay attention to what your party is really offering and through that, you can make your flyer a perfect one! Keep the description limited as you aren't writing down about your event on a social media website, you are making a poster! If you are really good at drawing, make the flyer out of your drawings? Anything can be done with surfs up party flyer; you just need to focus a bit.
---
Preview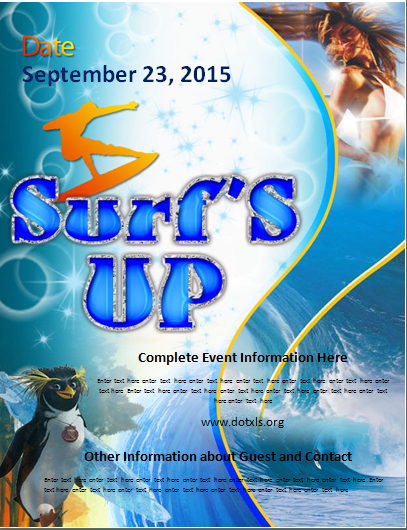 Surf's Up Party Flyer
Provided by: ENERGY corp.
Microsoft Word Format Flyer | Editable & Printable
Download size: 221 Kb