Birthday Party Flyers
Why use a flyer instead of an invitation? Well, trust me…you are going to save a lot of money and if you aren't interested in it, then why search for it? For those who are really in for utilizing flyers for their sweet 16 birthday party…you have landed in the right spot, as we intend to help you in all ways possible in creating a really outrageous birthday party flyer.
Since you are turning sweet 16 (a really jolly age that it), then maybe your flyer must be of the same kind, right? Usually, people really go forward for some cheap type of sweet 16 birthday party flyers…but maybe your friends will be laughing their stomachs out by looking at such a ridiculous flyer; don't let that happen!
Here are some tips which might help you in making a really WOW sweet 16 birthday party flyer for yourself;
For girls, the best thing concept can be wrapped around in pink or black…you can go for something fashionable. On the contrary, boys usually go with various vibrant colors, you can choose the one you like and maybe a gaming theme can be played around with?
Make sure that you are having some really fun features…add them to the flyer and keep them wondering with, "The rest is for those to know who come and see the magic happen"… no don't leave your friends all curious and you don't have anything really planned! Make sure you do plan something unique
Give off your contact details and the name of the venue in a proper and readable manner.
---
Preview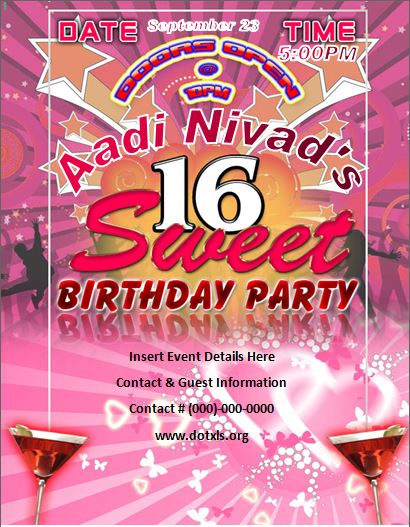 Sweet 16 Birthday Party Flyer
Provided by: ENERGY corp.
Microsoft Word Format File | Editable & Printable
Download size: 394 Kb