Publishing Flyers
Flyers are a cheap and impressive way of advertising and promoting yourself and your company or product. Publishing a flyer is inexpensive and seems really easy but you have no idea how much creativity it actually demands. Making your flyer sell is difficult if you don't have an idea or theme.
Designing a flyer in an attractive manner is very important if you really want your event or product to sell. If you are making a techno night flyer then it is essential that you must have some basic tips in your mind. So, if you are looking for some basic tips, then we are surely here to guide you through them….
The concept or idea must be creative and catchy since you want people to really look at your flyer and wander about the event.
Your creativity must be new…search on the internet and make something new, keeping the already used ideas on the side.
Your poster (that is your flyer) must not be overloaded with words…do not put in everything in it.
Since it is already cheaper, don't look forward to saving more money by compromising on the paper quality. Utilize a high-quality printer.
Proofread your final copy of the flyer before you send it for being published and printed all over…you really don't want your money to go to waste.
If you really want a crowd on your techno night party, then make sure that you are making an effort for it…selling events isn't an easy task!
---
Preview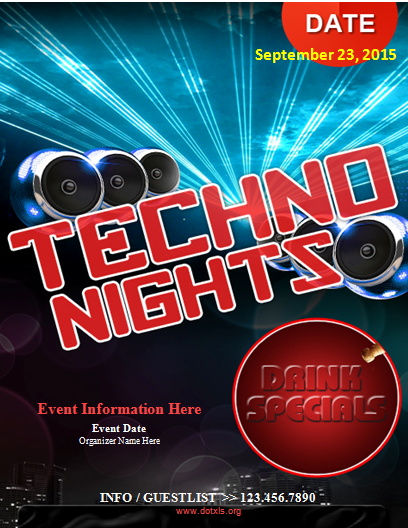 Techno Night Flyer
Provided by: ENERGY corp.
Microsoft Word Format Flyer | Editable & Printable
Download size: 376  Kb