Whether it's your business, a new product or any service that you're offering, you surely need to advertise. There are different methodologies used by professionals for the purpose of advertisement. One of such methodology is distributing brochures. A brochure is a small introductory document that has the details of the business, product or service that it is for. It is a convenient and economical way of advertisement since television advertisements or newspaper ads demand more money it is, therefore, better to take refuge in brochures to let people know about you.
Brochures are of several types:
Bi-fold
Tri-fold
Double-fold
French-fold etc.
What type of brochure you wish to use depends on what kind of advertisement would you like to make and the length of the content that you wish to share. The bi-fold brochures are the simplest ones though tri-fold are used more since tri-folds have six sides and allow more space for the content.
Brochures have been either handed to individuals or placed in brochure racks in book shops, at events and other public places but since that now we're living in a world where everything is E, brochures are also now used in E form. They're then sent via emails. The conventional way of brochure distribution is however, still in practice.
If you're looking for a tri-fold brochure, the template below might help you. These brochures are of multiple different themes and because they are modifiable and support MS word format, you can easily edit them according to your need.
Happy advertising!
Preview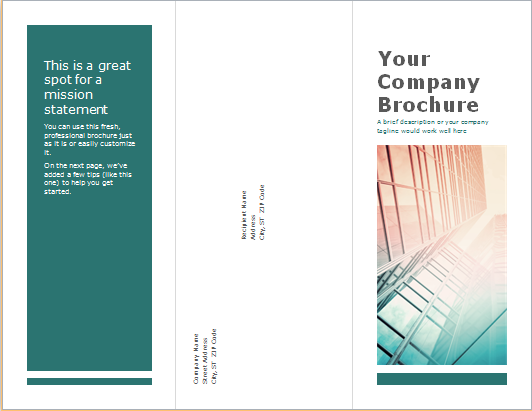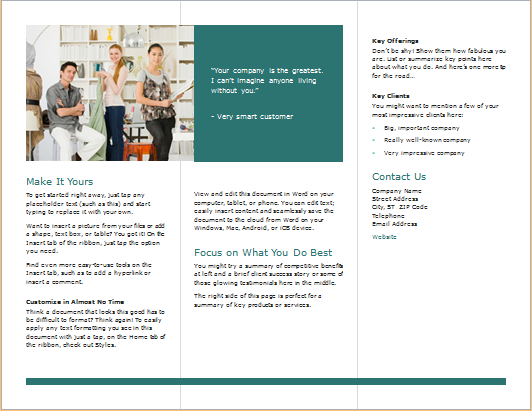 File Size: 1190 KB
Download Word (.doc)