What is Salary Certificate?
The salary certificate is a written document which acts as verification and evidence of information about the employee's salary. It is such a certificate which is provided to the employee by the employer upon his request. This official document is a proof of the employee's salary that includes the total income amount of employee, tax deduction, provident fund amount and other related information.
The salary certificate is of great importance as it is mandatory in order to apply for the financial service such as loan application. It varies from company to company and the best format is the one which has all the required details. We provide such professional salary certificate for the facilitation of companies and organizations.
Few mandatory things required for the salary certificate are
Company Name:
The format is incomplete without the company name and logo. It is necessary to mention it on the salary certificate so that the employee may use it as per his need. The company name and logo is its identity which makes the certificate authentic.
Employee Details:
It includes the statement such as employee name, his designation, date, organization name in which employee is working. It includes the official statement that the company is issuing this salary certificate to the particular employee upon his request.
Salary Details and Signature:
It includes all details of salary such as basic salary, overtime, house rent allowance etc. and shows the subtotal amount. It also provides the net salary which is after the deduction of insurance amount, tax deduction and provident fund. At the bottom of it, the signature of the manager is placed which assures the credibility of the salary certificate.
Salary Certificate Template in MS Word Format:
We design the salary certificate in a highly professional way that would benefit the companies and organization. Few important features of the template are
MS Word format: DOWNLOAD and open the certificate template using MS Word software 2003 or later.
Easily printable: Once you are done with editing you can print the document within MS Word PRINT option.
The format: It can be used for many people. Keep it safe on your computer for future use.
Professional layout: The template has a professional layout and it makes your company hassle free to create a salary certificate from scratch.
Editing: Edit the template as per your requirement.
Preview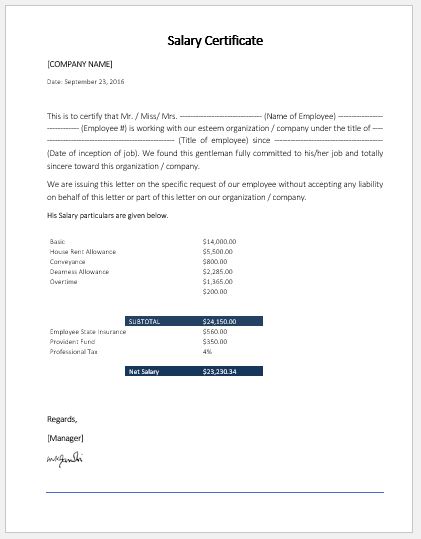 Format: .doc | Download