Bills are issued by all the service providers to those who purchase their services. No matter what type of services you use, you will always have to pay for them. For some services, we are charged after a week or month, and for some, we are charged as soon as the service fulfills our desire. Just like any other individual, computer mechanics also use a bill to charge others.
What is a computer repair bill?
It is a document that a computer repair service provider issues to the customer who has rendered his services. Through this invoice, the computer mechanic lets the customer know how much he has charged for the services he has provided. 
Issuing a bill…
Every person who specializes in fixing the computing machine earns by providing his services to others. The charges for the service depend on the type of work the mechanic does to bring the machine into working condition. The bill is generally issued every time a service provider finishes providing his services because the total cost incurred by the mechanic and the total amount to be paid by the customer cannot be estimated unless the complete service is provided. As a service provider, you can never issue an invoice at the start because you cannot estimate how much you will have to charge.
How to issue the invoice for repairing a computer?
Here are a few guidelines for you if you are trying to use the invoice for billing your customers:
Keep it prepared:
If you are someone who provides professional services to people, you should keep an invoice accessible to you. You can prepare the invoice from scratch at that moment. Keep an invoice with you with blank spaces that you will fill in at the time of issuing the bill. Since you also need an updated date on the invoice, you cannot fill it with details beforehand.
Fill it carefully:
When you are using the invoice and you are about to issue it to your customer, you should make sure that you fill it in with the right details. If you don't fill it out carefully, you can make mistakes in the total bill or while mentioning the repairing services you have provided. This can create confusion and complexities. However, if you vigilantly fill out the form, you will be able to prevent lots of mistakes.
Use a template:
As a professional service provider, you must be dealing with lots of things. Making an invoice might be a cumbersome task for you. Therefore, you are recommended to use the template. The template is a ready-made invoice that does not need the use of extra effort. It saves the time of the user and also provides a template that looks like a professional document. Therefore, find an authentic source and download the template that helps you stand out.
Give a unique invoice number:
Every invoice has an identifier that is used to identify the invoice issued to a particular customer. Make sure that you don't forget to mention the unique invoice number. This is helpful for you when you update your record of invoices because it confirms that no invoice is being repeated in the record.
How to design a computer repair bill in the right format?
If you want to design a bill in the correct format, follow the tips given below:
Use a template:
One of the easiest ways to format a bill in the correct format is to use a template that has been designed in a professional-looking format. Many people cannot create a bill because they don't know the format. For such people, using a template is recommended. The template also helps them focus more on things that matter to them most.
Use an invoice that is already in use:
There must be computer mechanics providing their services to their customers. Have a look at the invoice and the format they are using. This way, you will be able to format the invoice you want to create for your own business. Never copy their invoice as it is not a legitimate way to get the invoice that you need.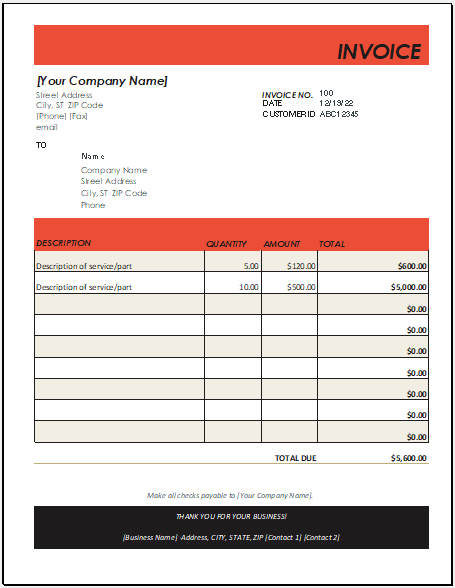 Excel templates…