For many people, planning a baby shower is just like planning a wedding because they celebrate it the way they have celebrated their big day. However, when it comes to organizing the event of the baby shower, many people find it very daunting to do so. There is a huge to-do list to manage. A long list of things is required to be done in order to make a baby shower event successful.
There are many guests who are invited to the event of a baby shower. Therefore, planning the baby shower is imperative. Many people feel the importance of planning and organizing this event in a well and organized way. Owing to this, some of them hire a professional event planner and some try to do it themselves.
As a matter of fact, people who don't want to waste their money on hiring an event planner trying to organize the event with their personal efforts. Most of the time, they end up ruining the entire event. For such people, it is advisable to use the baby shower planner.
Planning on an Excel worksheet
A baby shower planner is an Excel worksheet that contains a list of things a person is required to do to organize a baby shower event. After the accomplishment of each task, the person can check off each task and then move on to the next one. In this way, the entire event is organized.
How the worksheet can be helpful?
It helps in theme selection
Every baby shower event has a particular theme. People who don't choose the theme or don't choose the right theme end up organizing a lackluster and dull party. With the help of the planner, they are able to choose the theme which is well-suited for the type of event they have organized.
It makes people organize the meal
Every host wants to entertain his guests with mouth-watering food. The baby shower planner makes it possible for the host to tantalize the taste buds of the guests with delicious food. The planner does not let the host forget any important part of the baby shower event. Organizing a perfect meal is one of them.
Everything is planned on the dot
The purpose of using the planner is not just to remember to do everything. Rather, people also like to use planners because it enables them to do everything ahead of time. Since the planner includes every single thing a person is needed to do to organize a perfect baby shower, any person following the planner accurately gets everything done in time.
Baby shower planner template
People who like to use the baby shower planner should get themselves a template that will not only save them time but will also help them organize an entire event without any hassle. The template is good to use when you want to expedite the entire process of baby shower planning.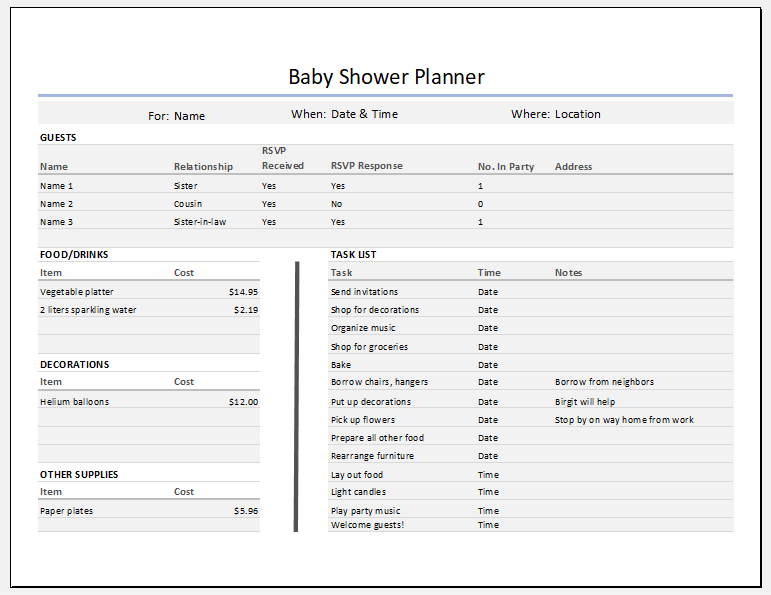 Excel Templates…