Homework assignment planner is an Excel worksheet which is the most efficient tool used for the planning of the homework which a student gets each day. The status of work on day to day basis is checked through this planner. Homework assignment planner ensures that no assignment has been missed out by the student which can then be responsible for the good grades of the students in the exam. There are also some online planners which are being used these days to help planning the homework. The advantage of using the homework assignment planner is that it can keep the data in it even if your device is not connected to the internet.
The planner brings the organisation in the life of the student. The template can have a very positive impact on the life of the parents, students and their teachers. There are also some additional tools which have been provided in the planner. The planner template also contains the reminder which keeps reminding the students about the assignment which is pending. The students can be better prepared for the quizzes and tests due to the organised homework planner.
Not only homework, the tests, quizzes and other school related events are also set in the application. The students are no more worried about the late submission of the assignment since the arrival of homework assignment planner has organised their life. This template is not only for students but other people can also use it no matter they work in an office or their work is in the field.
This template has been provided by https://templates.office.com/ and one can download it freely from the website. Important features of this template are
Download and save the file to your local computer.
This assignment planner can be used for any year. One can change the calendar year by clicking on the spinner.
Select the calendar year and it is all set for you to start work.
The tabs in the worksheet show all the 12 months of the selected year. You can add assignment schedule for any month
For each selected month it shows its calendar, weekly schedule and assignment details.
Add all relevant details about your assignment(s).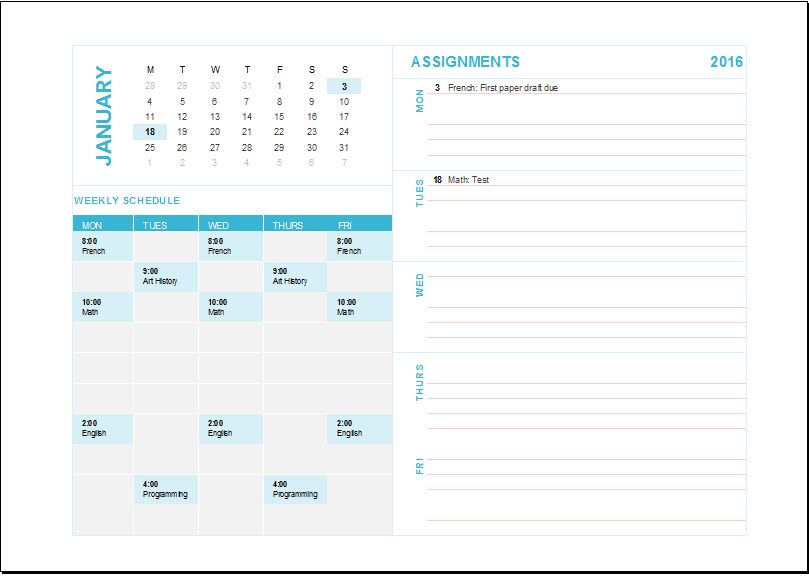 File Format: MS Excel: File Size: 43KB