Planning a business trip can be tricky and tedious. But the time you will spend in planning business trip will surely help you throughout your time spent during the trip. It sure is a time consuming too but to have ease in the trip it is worth your time consumed. The time that you will spend is going to save you from a lot of hardships during your travel span. The business trip planner will help you in ensuring that there is nothing that you are missing behind. As you are supposed to carry minimal luggage during the trip it will assist you in making up your mind that what are the things that you need to take with you and what not. Plus the most wonderful thing is that with the business trip planner would be a reminder for you to keep in mind that you are not going to miss anything important. Always at the last moment there are some things that are to be put into your luggage, the business trip planner template will help you keep these things in your memory.
While you are off to trip you have to carry the documents and also formulate the agenda of your visit so make sure that you get this template as you can do all this work on this template and then keep it with you at all times. These all properties of business trip planner will ensure the successful trip without a doubt.
Vacations are important to give a break to the hectic routine. These are must for physical as well as mental health. Vacations help in releasing tensions and stress. Every family should properly plan vacations to enjoy as much as it can in this limited time break. Their importance cannot be denied in binding together all family members. They are an opportunity for a family to spend time with each other while having fun. Don't waste your precious vacation days by sitting at home. Plan out something amazing and thrilling with the family for example a picnic to sea side, road trip to a hilly town, visit relatives, and anything that gives you pleasure and relief.
Vacations are necessary as your mind and body needs break. By constant working, you can face many health problems as well.
Vacation planner template is amazing. You cannot miss out a single detail while going out for vacations fun. Get a right plan for your vacations. Right from your personal info to travel details, hotel for stay, and car rental details in case you don't own a car, it's all there. You can enter emergency contact numbers in case of God forbid any emergency. This vacation planner template is handy and useful. It keeps records of all your vacation details hotel, rent, map and personal information. It is all in one.
So take this opportunity and plan out a wonderful vacation plan with this vacation planner template and get ready for a ride.
Vacation Planner Template- Download
Business Trip Planner -Preview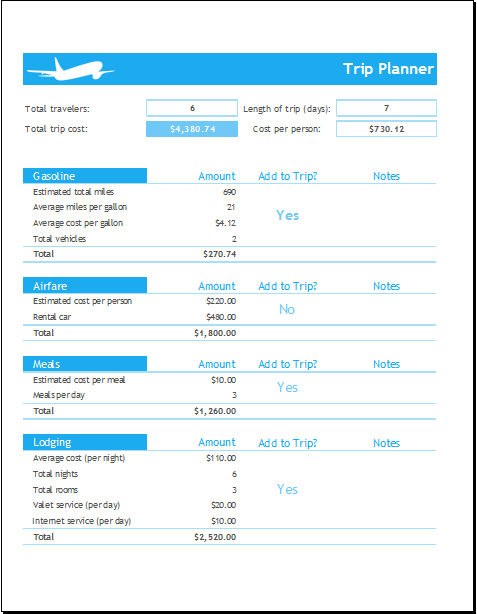 Download Excel (.xls)
File Size: 53 KB