In the business world, professionals always prefer sending quotations to their prospective clients and customers. The quotation lets others know about the price and type of services a professional service provider likes to provide. This gives plenty of information to the person looking for professional services.
What is a photography business quotation?
It is a document that is prepared by a photographer to give a summary of the type of services he provides and at what charges. The professional photographer has the best opportunity in the form of the quotation document to prove that he can stand out through the unique services he provides.
Why should a photographer issue the quotation document?
In general, the quotation document is always issued at the special request of the customer. Customers who don't know which photographer they should hire for professional pictures ask different cameramen to describe their services and charges and then decide which one of them suits them the most.
A person who is adept at professional photography is under no obligation to send a quotation. However, it is useful for him as he gets an opportunity to win over the customers to who he has already sent the proposal.
What is the benefit of designing the quotation document?
For some professional cameramen, designing a photography quotation might be a tedious task. However, it often turns out to be very useful for them. All those cameramen, who are at the entry level of their career can grab the attention of the customers. The customer can evaluate their proposal and consider if the quotation document is right.
A photographer also gets the chance to put his brand in front of the customer as a great option to go for. Based on this document, further discussion and conversation can go on between the photographer and the customer regarding services and their charges. These days, there are lots of service providers in the market.
A photographer has to compete with many other photographers. In this situation, it is only the quotation that distinguishes him from others. Many clients use the information provided by this document to compare different service providers. Therefore, the information can be broken down into various sections for providing maximum ease to the client.
Is it worth sending a quote for your photography service?
Yes, every service provider including a photographer will have to send a quote whenever it is demanded by clients. When a client asks for a quote, it means that he is interested in buying the services. Therefore, the service provider should take him seriously and provide them with the quote as and when it is requested.
What information is provided in the photography service description document?
As a professional service provider, it is your responsibility to design a document in such a way that it conveys useful information to your client. The basic information you must include is:
Details of the company run by the photographer
Types of photography services i.e. photography for personal events, commercial events, etc.
Charges for each and every type of photography service
Terms and conditions of working with the photographer for professional pictures
It is important to remember that this document should not include long descriptions and details because most information is already provided in the proposal. If you have not sent a proposal before, consider sending a proposal instead of using the quotation document to describe your services comprehensively.
What difference can a template bring to a quotation document?
It is very convenient for many people to use the template instead of designing their documents. This is because the template provides a ready-made document that is readily available to be used.
In addition, the template uses a format that is used by most professionals, and this way, if you use it even at the entry level, you will be able to express yourself as a photographer who loves his job and loves to deal with his clients also.
The template is provided in an MS Excel sheet which is very easy to use and download. The user can also personalize it to see it appropriately working for his business.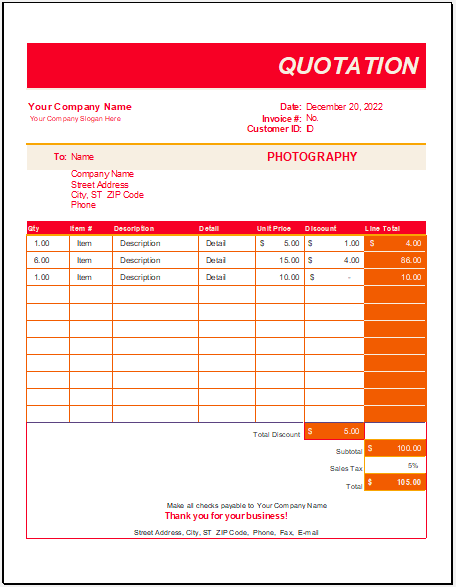 Worksheet Template 110 KB
See also…