Sometimes it is not so easy to keep the family on one favorable schedule all the time. This is probably the main reason that there are so many digital-based tools that are a lot helpful in managing the events of large-sized families. This will let you know how you can stay organized. If you search, you will probably be finding so many helpful and best apps for the management of family events in the form of calendars.
Based on your app selection, you can look for the one on which you can also share different recipes, photos, and shopping items.
Right here we are compiling a list of the top best event calendar apps that are worth using right now:
Google Calendar
On top of the list, we have the name Google Calendar, which is one of the top leading apps for the family event organization. It is a lot simple to use and has been put together with a seamless form of integration along with various other Google Apps. You can even use it to add all your events right from Gmail.
Sharing the schedule inside the Google Calendar is so much easy to do. You need to mention your email address in the calendar and share the link to the calendar. You can even bring some changes in the whole calendar settings so that no other person can get access to edit the events or bring some additional changes out. You can also use it for managing school presentations, upcoming events in your family, or even some significant occasions.
Time Tree
This has been another best family calendar apps on our list. This app is best to be used for android and iOS. You can even choose to use it for your web browser too. It is a lot easy and more friendly to manage the schedule of your family events by using this app. It is simple to use and has friendly features for beginners.
You can add any member, or you can even control the events inside the calendar according to your requirements. Any person who is part of the calendar can also make use of this app as a form of chat tool. You can communicate with other members.
DigiCal 
Last on the list; we have DigiCal! This is another free app that we will be highlighting for you to use right now. This app is probably used to bring some changes to the events and add some scheduling for the family events. The best feature of this app is that it has the exceptional ability in which it can quickly get synced with the rest of the Android-supported-based calendars.  
You can even make use of it for accessing the weather details, scheduling all your appointments, and performing so many more customization options. It is also offered in the paid version as well, called DigiCal+, which is filled with so many amazing features. This app can only be used on the platform of Android.
Family Event Calendar by MS Excel
Microsoft's MS Excel has provided a free template to keep a record of family events. The template can be downloaded directly from templates.office.com.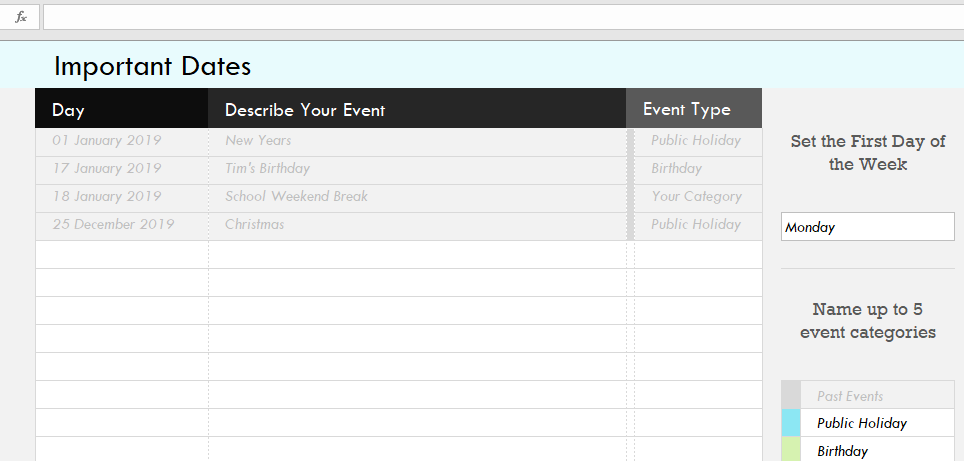 Excel (.xls) File Size: 95 KB
More Excel Templates…