Have you been looking forward to a platform that will enable you to arrange the information in a completely effective manner? If yes, then we have the best solution for you in the name of Equity Reconciliation Report! Do you want to know what this reporting platform is all about? Let's have a look!
Introduction to Equity Reconciliation Report
The Equity Reconciliation Report is basically a form of tool which is helpful for you in order to take upon the liquid equity and hence make it much more solid when it comes to the filing of taxes. It can even be in the view when it is about filling up the major documents.  This document is so much helpful for you in order to arrange the information over a single template and let that data or the information be stored for so many coming years.
How to Use Equity Reconciliation Report?
Now here we have a complete guide for you that will enable you to learn how you can make the use of Equity Reconciliation Report:
You have to mention your company name in case the template is being set for your company.  This is to be done on the top side of the "Equity Reconciliation" tab related to the template. This is the tab in which you have to mention all your needed information.
You can also make some editing to the template and add some new information to it.
You can even bring some changes to the amounts that have been listed inside the boxes to make it get fitted according to the equity items. This template will be letting you get a complete display of every single section along with the approximate amount of the stock or wide range of other equity that you have already entered.
Now as you are all set to get a view of the entire trends of the equity, you have to visit the "Total Equity" tab option.  This will make you show the simple graph which will be displaying all sorts of information that you have already mentioned in your previous tab.
Everything You Should Know About Equity Reconciliation Report Template
The preparation of the equity reconciliation report template is carried out in the format of MS Excel. This is a complete professional template in the form of a document that can be used so easily by any investor for creating a wide range of financial reports with so much ease.
As you will be giving a look at the template, you will view different fields in it in which it is important to enter the required data and get a complete analyzing view of the company stock value. By making use of a template, the users somehow can even reconcile the overall equity amount.
For business organizations or even for entrepreneurs, the use of the Equity Reconciliation Report is so much an important and much-needed medium to organize their company documents.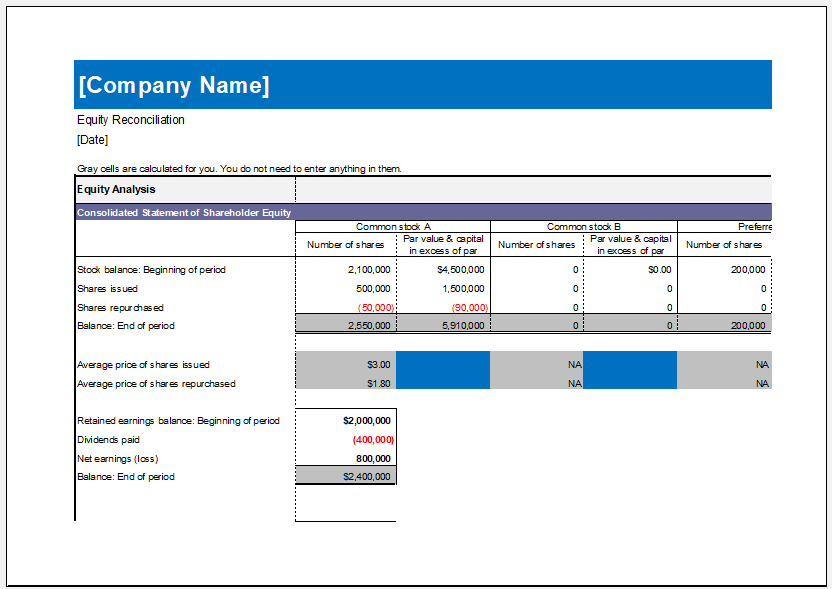 More Excel Templates…